Embraer KC-390 First Flight: the Thales inertial system meets requirements
Feb 06. 2015
On February 1st 2015, Embraer and the Brazilian Air force (FAB) conducted the first flight of the KC-390 military transport aircraft, following the rollout of the first prototype in October 2014. Thales Avionics is strongly involved in this program by providing the High Performance Inertial Reference System (HPIRS) and Topstar 200 Global Positioning System (GPS).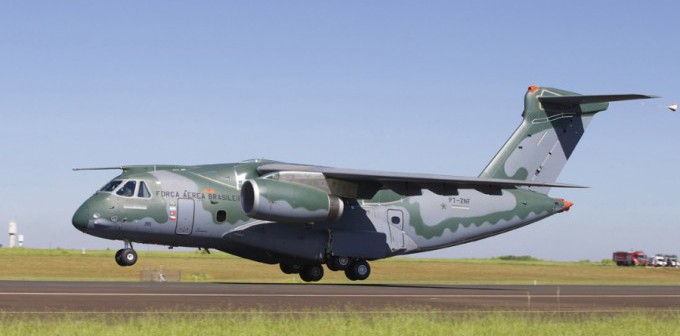 "HPIRS, hybridized with Tospstar 200 GPS, constitutes a civilian certified inertial reference system for the best performance with safety in military operations. At this stage of the program, HPIRS and Topstar 200 meet all our customer's requirements," states Patrick Panse, sales manager for military avionics activities at Thales.
The "2-in-1" capabilities of the system developed by Thales have also resulted in a much-simplified navigation architecture, enabling substantially lower maintenance and ownership costs. While aircraft previously needed to be equipped with four systems, only two are now necessary.
In the field of the inertial navigation for space and military applications, Thales has already delivered more than 3,500 units for fighters such as the Mirage 2000, transport aircraft (C160, C295, C130), missiles and rockets (Ariane, Vega) as well as drones. In the civil domain, Thales has been selected for the A350 XWB.
The Thales development team will continue to support Embraer until the certification of the "green aircraft" expected at the end of 2015. Production of the 28 aircraft is set to run through to 2023.
KC-390 Key figures
In terms of performance, the KC-390 will be able to carry 23 tons at 470 kt (Mach 0.8) out to 1,300 n miles. A typical payload would include 80 regular troops or 64 paratroopers, or three Humvee-sized vehicles or a single Sikorsky UH-60 Black Hawk utility helicopter.