Eurocopter chooses Thales for new Dauphin simulator
Feb 26. 2011
Following the success of its first Dauphin simulator, Thales has been commissioned by Eurocopter to produce a second Dauphin N3 flight simulator. The unit includes a number of innovative features, and will be used to train pilots at Eurocopter's South-East Asia facility from 2012.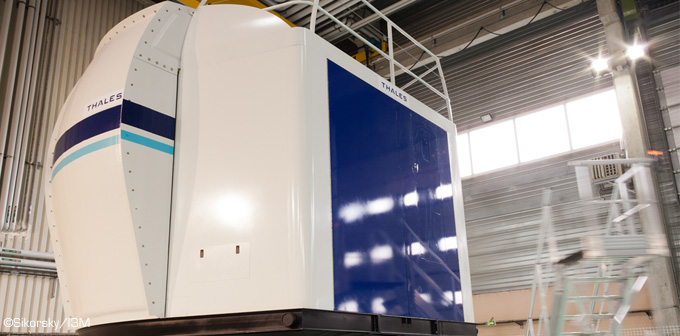 With over 30 years of experience in the helicopter domain, Thales is Europe's leading supplier of helicopter simulation solutions with more than 100 simulators in service today.
Such equipment is a valuable tool for both civil and military clients for two main reasons:
It allows pilots to obtain or renew their licenses for a given helicopter model or type;
It gives pilots mission-specific readiness in their operational environment (e.g.: offshore, emergency medical services, search and rescue, military operations, etc.).
New contract
The recent contract win is a show of confidence from Eurocopter, following the successful award in 2009 of a first Dauphin simulator due to enter service this year.
"Eurocopter was particularly interested by the innovative and modular nature of Thales's solution," explains Jean-Luc Streque, Director Strategy & Marketing at Thales Training & Simulation. "The solution can easily be updated to evolve concurrently with the helicopter. It can also be completely reconfigured to represent another helicopter by changing the cockpit and, where appropriate, the terrain databases." This modularity means that Thales's simulators boast an extremely long lifecycle as well as huge flexibility, significantly lowering total ownership costs.
Key features:
Unprecedented visual system: through wide field of view dome-mounted direct projection, our powerful image generation system renders fully immersive 3D images with high resolution, realistic scene lighting, and rich graphic details.
Optimised visual databases: designed for low level operations, our highly detailed databases include geo-specific imagery for high fidelity visual cues.
Proficiency: operational training scenarios that simply cannot be performed in an actual helicopter are achievable in the simulator which can simulate malfunctions, weather hazards and reproduce accurately their impacts.
"One of our main strengths is that we listen to the market and therefore to each customer's needs," explains Jean-Luc Streque, "and thanks to the modular design of our simulators, we can give clients exactly what they need more: proficiency and safety."