How fly-by-wire flight controls are increasingly enhancing aircraft performance and safety
May 27. 2021 Thales fly-by-wire flight controls equip more than 12,000 aircraft, making a significant contribution to flight safety and comfort around the world. We take a closer look at this technology, which was extensively featured in a recent Aviation Week article.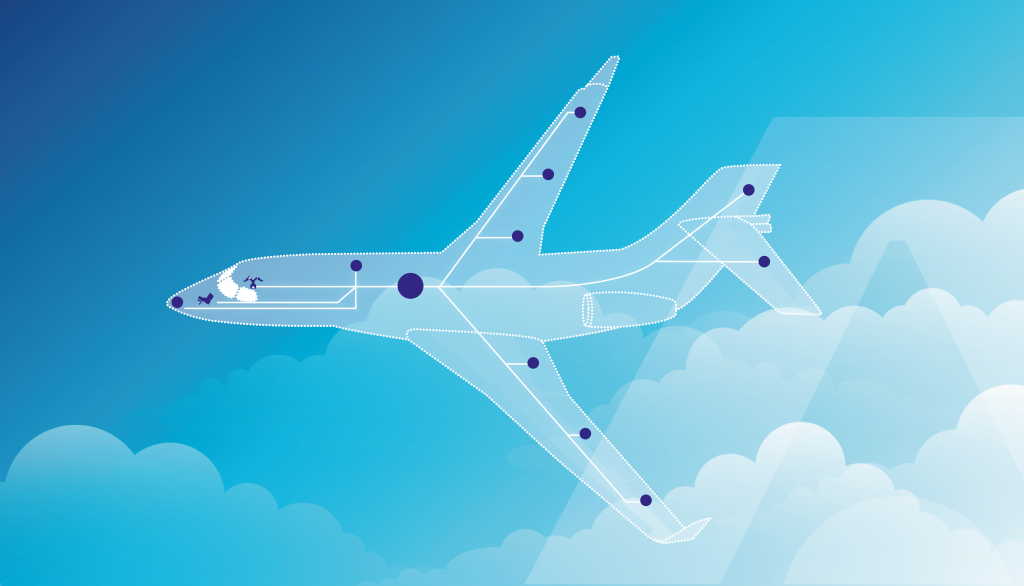 Fly-by-wire systems use electronic interfaces and signals processed by the Flight Control Computers and transmitted to precisely action the actuators that enable the aircraft to be controlled, replacing more conventional manual, mechanical flight controls. Originally developed for use on combat aircraft, fly-by-wire systems have been deployed on commercial aircraft since the 1980s, ahead of being implemented on business aviation aircraft.
Throughout previous incarnations of Thales, the history of fly-by-wire systems even originated on the Concorde supersonic aircraft with the development of analogue standby flight controls. However, the first key high-profile milestone came in 1985 with the entry into service of the Airbus A310, which was equipped with electric spoiler controls. Since then, the portfolio of aircraft equipped with Thales fly-by-wire systems has grown – first on airliners throughout the 1980s and 1990s, ahead of the business aviation sector following suit in the 2000s, including most recently the Gulfstream G700 business jet – and now amounts to 12,000 aircraft of 14 different types.
Fly-by-wire enabling higher-performance aircraft designs
Journalist Thierry Dubois recently penned a feature for Aviation Week focusing on how fly-by-wire controls are continuing to make further headway across the business aviation sector, stating that "they have enabled higher-performance business jet designs. They have made the aircraft easier to fly for the pilot. Passengers in the cabin may not be aware their jet features such an advanced system but they would notice the difference in comfort, should they fly the same route in a more conventional aircraft."
In the article, André Cléroux, Thales's program director for Flight Control systems, offers an explanation. He is quoted as saying that "Flight control computers augment the system's performance to reduce pilot workload, increase safety and improve comfort in turbulence," adding that "spoilers augment the action of ailerons, and ailerons and flaps are combined into flaperons – only fly-by-wire can make these evolutions possible."
Fly-by-wire is technology that is continuing to evolve, and at Thales engineers are currently working on developing next-generation flight controls, both for the legacy air transport and business aviation segments, but also for future urban air transport eVTOL (Electric Vertical Takeoff and Landing) markets, most notably through the collaboration with Bell Helicopter on their Nexus on-demand mobility solution.
Drawing on the development expertise of teams based in Canada and France, and the manufacturing skills of teams in France and Singapore, Thales's fly-by-wire flight control credentials are also a strong symbol of the Group's international internal synergies, and the teams are looking forward to rising to the future challenges of flight controls as aviation enters a new era!