How holographic optics could be the future of head-up displays
Sep 27. 2019 Research conducted by Thales experts in the field of Holographic Head-Up Display technology has been showcased by the prestigious IEEE Consumer Electronics Journal. To get the full story, we caught up with one of the authors of the paper, Philippe Coni, a Display Expert based at our facility in Bordeaux.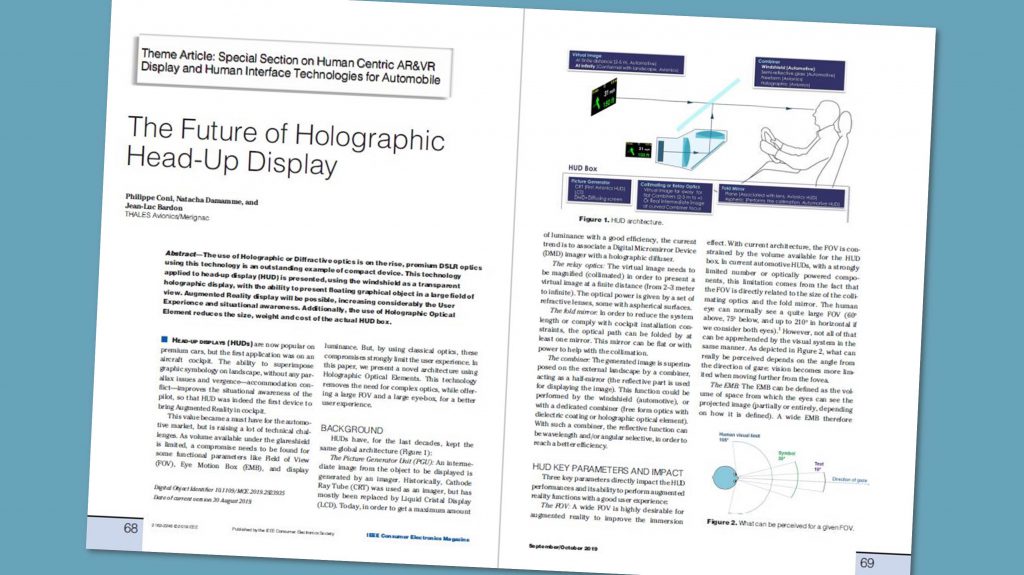 What is the key message that you put forward in the paper?
The article is entitled "The Future of Holographic Head-Up Display" and in it we discuss how innovative holographic technologies could be applied to head-up displays, which were first rolled out in aircraft cockpits and are now also commonplace on premium cars. Across both the automotive and aviation sectors, right now the design of large field-of-view head-up displays – which are increasingly required for augmented reality applications – is limited by the necessarily large size of the optical components, and in the case of cars by the geometry and poor reflective efficiency of windshields used as a combiner. Current fields of view in cars equate to just 6° and we need to be targeting 20°. In aviation the current field is 35° and we're aiming for 40°.
Is holographic technology the solution?
Holographic technology can indeed deliver optical functions along with an improved field of view whilst remaining compact in terms of the associated hardware. Traditional optics are an application of the Snell-Descartes laws based on the properties of reflection and refraction, and combiner size is defined on the basis of field of view requirements. By using holographic optical elements, the HUD optical system size can be considerably reduced and performance levels enhanced.
What is the story behind this research?
It stemmed from a "3D windshield" research project, which aimed to display 3D data on an aircraft cockpit windshield using image projection technology. The idea was developed as part of an advanced studies programme, but this technology required additional glasses. We searched for solutions to avoid heavy 3D spectacles, which was possible through holographic technology.
Right now, our research is in the early stages of technology readiness, in other words we are in a Research & Technology phase and aiming for a Research & Development phase. We will see how the technology develops and evolves in the future but, whatever happens, the research has already enabled us to gain extensive knowledge on this high-potential subject and to develop an active network of partners in the fields of industry and academia. This has resulted in being approached by the IEEE (Institute of Electrical and Electronics Engineers) to give a conference at the 2018 CES (Consumer Electronics Show) in Las Vegas. And that, in turn, led to the subject being included in the IEEE journal.
Who are some of the partners you have worked with to date?
We have been working in close conjunction with France's internationally-renowned Institut d'Optique Graduate School. Some of us give lectures there, and students from the institute have joined us as interns and as permanent staff members. There have been similar ties with experts at the Institut de Maintenance Aéronautique and other higher education establishments. In addition, our various publications and conferences have enabled us to develop relations with experts in the fields of optical, display and touchscreen technologies, all of which enable us to make highly-informed decisions and analyses, as well as developing our own reputation throughout the sector. Finally, social networks such as LinkedIn groups have become a valuable means of initiating discussions with fellow members of IEEE committees.
What happens next?
The IEEE Consumer Electronics Journal is accessed by an extremely wide community of readers and therefore could result in many fruitful leads and discussions. And, at Thales, if the technology is earmarked for long-term inclusion in a future product, we could be looking at an HUD demonstrator that combines the associated technologies (diffractive optics, micro LEDs, etc.) within a short two-year timeframe.
Authors: Philippe Coni, Natacha Damamme, Jean-Luc Bardon