Making sparks fly: introducing the geocaging technology that keeps Groupe F's pyro-drones in exactly the right place!
Jul 12. 2023 The pyrotechnic and open-air theatrical production company Groupe F recently staged a spectacular show in Geneva, Switzerland, that relied on drone security technologies delivered by Dronavia, coupled with ScaleFlyt geocaging systems provided by Thales. We got the full story of how the three companies combined from Étienne Compain, Groupe F's head of drones, Ludovic Pelletey, Dronavia's CEO and R&D manager, and Paul de Courcel, ScaleFlyt Geocaging product owner at Thales.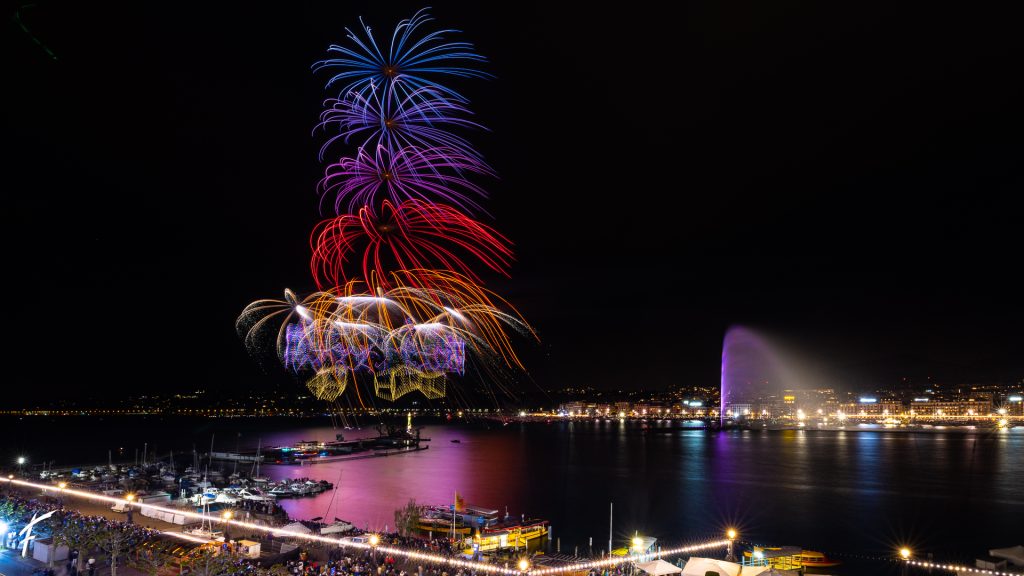 Picture credit: Nicolas Chavance / Groupe F
Étienne, can you provide the story behind this photo?
Étienne Compain (Groupe F): The picture shows 1,400 small drones, and eleven large, pyrotechnically-equipped drones - six Matrice 600s and five Matrice 300s - flying in the heart of Geneva harbour in Switzerland, 900 metres from the take-off zone and a hundred metres from Geneva's famous 140-metre-high water jet. The highest drone is flying at an altitude of 500 metres!
The show was part of the city's "Feu ô Lac" festivities in May 2023, in front of an audience of 800,000 over three days. Quite simply, it was the biggest drone show in Europe by far! The show mobilized 86 people on site for a fortnight, and was the result of two months of design and six months of production! What's more, the show was synonymous with a number of European firsts: it was the first time that so many drones had flown simultaneously in the same space and the first time that large pyro-drones had flown in this way as part of a quasi-autonomous fleet.
What were the technical challenges and constraints associated with such a show, and how did you meet them?
Étienne Compain (Groupe F): The most complex challenge was quite simply to fly these large drones in a fleet at night over the lake, with fireworks and no manual piloting, relatively close to an audience, synchronising on a timecode... at a height of 500 metres! We didn't have any safety solution that would allow us to do this, so we turned to Thales's ScaleFlyt Geocaging solution as a means of keeping the drones in their flight zone without outside help, i.e. a completely autonomous solution on the drones, all coupled with Dronavia's Zephyr-CC Flight Termination System.
Relive the event here:
Why is this example a textbook case of the use of geocaging?
Paul de Courcel (Thales): Thales designed ScaleFlyt Geocaging to protect people and property around drone operations. This is usually done manually, with a dedicated remote control for each drone. In the case of Groupe F, this is obviously impossible because of the number of drones and the surrounding darkness. Étienne understood this perfectly when he heard about our product. After contacting Thales, we met with him very quickly. This meeting confirmed his vision of the product, and we quickly brought Dronavia into our discussions to create a product combining ScaleFlyt Geocaging and the Zephyr-CC Flight Termination System (FTS). This collaboration took the form of at least monthly meetings between the three of us, always focused on providing Groupe F with the solution they needed.
Ludovic, can you tell us more about the complementary nature of the Zephyr-CC FTS?
Ludovic Pelletey (Dronavia): We were involved in supplying the so-called Flight Termination System, by offering Groupe F these accessories that integrate geocaging capabilities. Geocaging provides an indication of the drone's position, and sends a cut-off command to the FTS if it approaches the limit of its zone of action. In this scenario, the Flight Termination System could intervene to stop the drone's engines if a drone were to escape the control of the automatic show programme and that of the remote pilots who were present in the event of a mishap. The flight termination solution we provide, Zephyr-CC, is adapted to the Matrice 300 and Matrice 600 used on the show, and integrates Thales's ScaleFlyt Geocaging solution. 
Paul de Courcel (Thales): Engine shutdown automation is based around a system that is completely independent of the flight controller, and has a positioning system that is independent of the latter. This system is ideal for operations where at least one of the following criteria is met: if the drone not clearly visible, if there is a need for short reaction time (to minimize the size of emergency buffers), or if several drones are being used. Groupe F's operations meet all these criteria!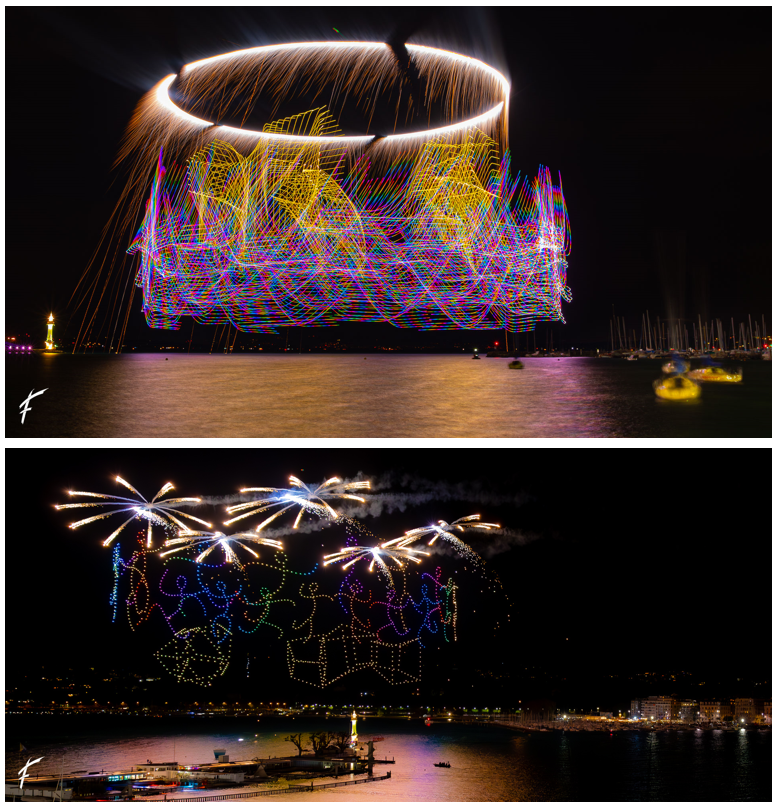 Picture credits: Anthony Rosier (top), Nicolas Chavance (bottom) / Groupe F
What was the feedback from the show in Geneva?
Étienne Compain (Groupe F): The public on site were very impressed by the scale of the show (900 metres across) and also appreciated the artistic dimension of the tableaux, notably the meeting on Lake Geneva of the historic boat Neptune and "our" Neptune formed by drones! Many event and audiovisual professionals were also present to discover the show, and here too the feedback was excellent.
Finally, this show was a genuine tour de force for Groupe F, enabling us to stand out from the crowd and show what is possible in Europe, while complying with European regulations and safety conditions. We are now preparing a beautiful show in the gardens of the Château de Versailles (August 15, 2023), and we have some interesting projects coming up in 2024 elsewhere in Europe.
What are the prospects for the partnership between these players?
Ludovic Pelletey (Dronavia): The Geneva event was the start of a great three-way adventure, with some exciting challenges ahead. Looking forward, this geocaging functionality is set to develop in other sectors, with further collaborations already underway: for agricultural drones where the operator is far from the aircraft; site surveillance with an off-site operator; or logistics linked to long-distance deliveries in predefined flight corridors... We have mastered the solution and the technologies, which are secure, and thanks to proofs of concept such as the Groupe F example, we are "unlocking" use cases that previously would not have been conceivable!
Paul de Courcel (Thales): And at Thales we're delighted to be contributing to these advances with our ScaleFlyt Geocaging product, hand in hand with our partners.
 
> Find out more about how Zephyr CC ScaleFlyt Geocaging works (video in French):