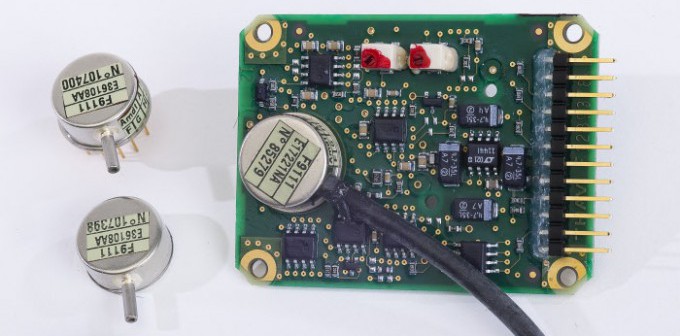 MEMS (Micro-ElectroMechanical System) is a micro-fabrication technology that integrates tiny mechanical devices such as sensors, valves and actuators in a silicon semiconductor chip. By virtue of its small size and ability to measure minute accelerations and rotations, MEMS is already used in a wide variety of fields.
In the automotive industry, MEMS are used in airbags and vehicle control; in medicine, they can help control dosages and regulate cardiac valves for patients with pacemakers; and in smartphones and Nintendo Wii game consoles, MEMS transform simple movements into dynamic user interaction.
IMU benefits
For Thales, MEMS technology opens up a wealth of possibilities. "In avionics, MEMS are most often used in an aircraft's Inertial Measurement Unit (IMU)", explains Philippe Pelet, Product Policy Manager in Thales's Technical Directorate. The IMU is an electronic device that uses inertial sensors (accelerometers and gyroscopes) to deliver up-to-the-minute information about an aircraft's velocity and orientation.
"The real benefit of MEMS is in terms of size and weight reductions", notes Philippe Laviron, Head of Navigation product Marketing in Thales's Strategy & Business Development Directorate . "While the previous technology was around 1 litre in volume and 1 kg in weight, a MEMS component is less than 0.1l and 150g. It represents a fourfold reduction in power consumption."
Other applications
MEMS can also be used in the domain of load control and health monitoring. By integrating the technology into wings, for example, airlines can precisely measure real time stress and forces on the aircraft's extremities. They can then use this information to schedule check-ups and repair work. MEMS could also be used to optimize passenger comfort by measuring and then counteracting slight movements in the cabin.
In the military sector, meanwhile, weight savings offered by MEMS could help reduce electrical consumption, allowing drones and missiles to benefit from significant extra autonomy.
Investment in the future
As part of its commitment to this technology, Thales has partnered with Tronics Microsystems to produce high performance vacuum-packaged MEMS based on Thales design concepts. The company has set itself the ambitious goal of becoming a leader on the European market. Numerous projects are currently under development. "For example, we're looking at using MEMS to stabilize optical captors in miniature cameras for aircraft surveillance systems," explains Laviron.
Above all, MEMS represents an investment in the future for Thales. "During development, we always think in the long term", says Pelet, "so that all our MEMS applications have a long life expectancy. We want the benefits to be as relevant in forty years' time as they are now."