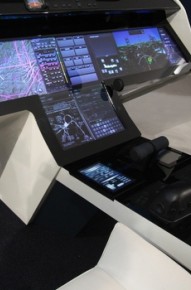 ODICIS, which earlier this year won the French Design Institute's Janus prize, is designed to shape the future of commercial and military avionics platforms.
Addressing the emerging requirements dictated by high profile programmes such as SESAR/NextGen and Clean Sky, Thales's futuristic cockpit concept has incorporated new state-of-the-art functions in order to comply fully with the future demands posed by the programmes.
Programmes such as SESAR, NextGen and Clean Sky represent the true future potential of the aviation industry and Thales is proud of its leading role in SESAR. As the only player in the Undertaking to have taken the leadership position in both the air and ground segments, Thales supplied all the on-board and many of the ground surveillance and positioning instruments necessary for the successful completion of the trial I4D flight earlier this year.
Because of this unique capability, Thales is the only player in the market to be able to develop a future cockpit concept capable of handling the host of new information which will need to be displayed to comply with these programmes and therefore the amount of data the crew will need to handle in the future. ODICIS displays all relevant information in a simpler and clearer fashion on a larger and more legible display to ease workload and complexity.
Touchscreen-based display
With its touchscreen-based display concept, ODICIS can be configured to provide more freedom in how the display space and touchscreen surface are used, enabling information to be presented in new ways across all types of aircraft. This new technology draws on applied research work and creates a crew-centric system with simpler and more instinctive human-system interfaces allowing the pilot to focus fully on the job of flying the aircraft whilst keeping the entire display area on screen.
Reflecting on these developments Richard Perrot, head of Thales Avionics' marketing department said: "As one of the world's leaders in both aircraft avionics and air traffic management solutions, we are fully committed to make ground and air segments work seamlessly together. We are also deeply involved in improving system and interface management to design a new cockpit philosophy."
View AeroSocietyChannel video interview with Thales's Lionel Verot: