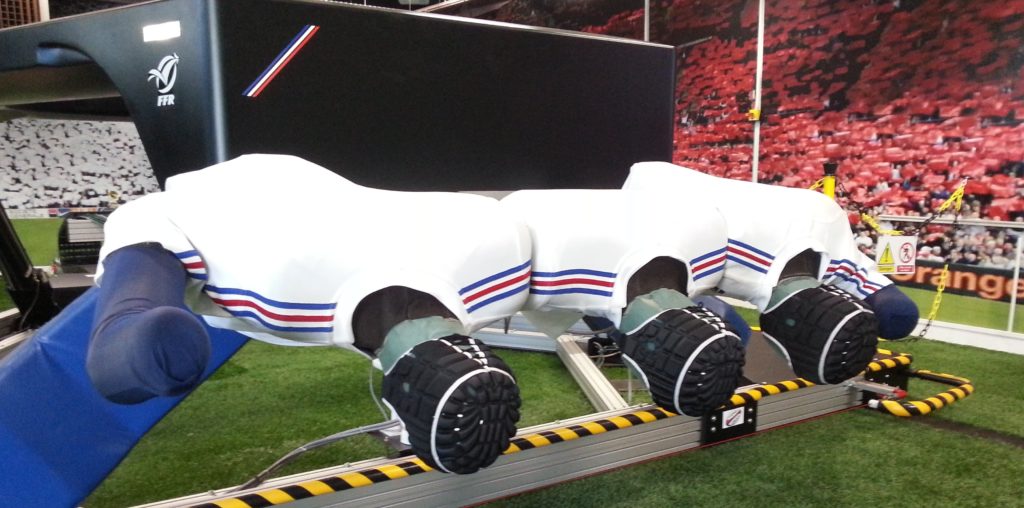 M-REX is a new kind of rugby scrum simulator, the result of a project led by Thales in partnership with the Fédération Française de Rugby (FFR) and a CNRS research team specialising in neuroscience at Université Paris-Descartes.
The FFR has been using M-REX as part of its training programme since 2010. Initially developed to analyse the risk of scrum accidents, improve safety and protect players from injury, it soon became clear that M-Rex could also be used as a valuable tool for training/coaching the packs of the national teams.
Ahead of the world cup 2015, an M-Rex new generation has arrived: this new version includes a movement on a longitudinal axis to reproduce the movement of the scrum in action with high accuracy.

Man-in-the-loop interaction

"M-REX is a real revolution," says Serge Couvet, project leader at Thales's Training & Simulation business. "It's the first in the world to achieve such a close degree of human-machine interaction." Thales developed this rugby scrum simulator by combining its expertise in avionics and simulation systems. M-Rex applies the man-in-the-loop concept of interactive simulation: players act on the simulator in response to the sensations they feel as the machine moves. In a continuous loop, the simulator responds to player inputs by moving and pushing back.
"M-Rex New generation simulates 95% of what we can do on the pitch, including working on the best tactics and learning new rules (for example the new scrum engagement protocol implemented by the International Rugby Board)," adds Serge Couvet. Eventually, it will also be possible to simulate other parts of the game, such as the maul.

How does it work?

The M-REX scrum simulator is an intelligent robot equipped with extra sensitive effort sensors. It uses a motion system for tanks and a technique widely used in force feedback systems for flight controls, combined with the results of neuroscience research. To reproduce the interplay of a scrum situation, the simulator treats the scrum formation as an object in space. Thanks to its hexapod system, M-Rex reconstructs the scrum environment by moving the beam left and right, backwards and forwards, up and down, with three-axis rotation. With M-Rex New Generation, the length of the displacement along the axis of the main thrust has been extended several meters. This new development improves the training capability on the advanced and backward movements of the pack.
Stay connected with us...