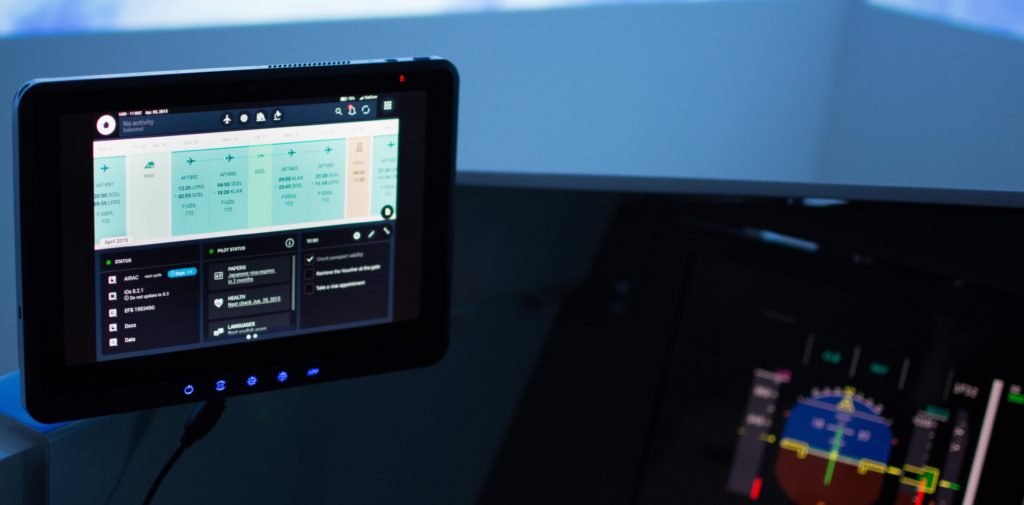 Why did SATA select Thales as EFB supplier?

We were looking for a flexible EFB solution which would allow us to continue working  with our existing flight planning, crew rostering and navigation charts suppliers while still evolving to the digital era. As an integrator, Thales was able to implement a state-of-  the-art EFB system, capable of working with SATA's existing systems and software  suppliers. We also considered Thales experience and know-how in the industry, which  was also definitely important in ensuring a successful EFB system implementation.

How did it change your way of operating?

We removed all paper navigation charts and nearly all paper manuals from our cockpits. As a total, 174kg in paper manuals were removed from the entire fleet, representing over 33,600 paper pages.

More than 400 documents are available to flight crews today on the EFB. Crews are able to submit reports, receive messages, quickly and intuitively read or search specific information from aircraft and company manuals, check navigation charts and get airport or en-route weather updates on demand. They can get just about any operational information they require in a few seconds.

By end 2016, flight briefing information, comprising NOTAMs, weather and other operational information will be on the EFB. So will all operational flight plans, which will no longer be delivered to crews in paper format, saving paper and time. Thanks to our EFB system, flight crews now have more information available in less time.

How does it benefit your daily operations and routines?

By removing paper manuals and charts from our aircraft, we were able to achieve a 30kg increase in available payload for each flight, thanks to the reduction of each aircraft's Dry Operating Weight. This means we are able to carry more weight on each flight leg, whether it is more fuel, passengers or cargo.

It's also important to consider the fact that our average flight time within the Azores is 20 minutes. During this time flight crews have to perform all flight duties and access different information in a very limited time. All this information is now readily available through the EFB, drastically reducing flight crew workload, thus increasing safety and reducing costs. The EFB is approved to be used during all flight phases, eliminating the need to maintain information in paper format inside the cockpit.

Only some operational forms, the technical logbook and the Quick Reference Handbook, used to troubleshoot emergencies, remain available on paper. All other manuals are now only available through the EFB.

The updating of aircraft manuals and navigation charts is now also simplified, since our Flight Dispatch Officers no longer need to wait for aircraft ground time in order to perform these tasks. These are now considered EFB maintenance tasks, performed by the EFB administrator in coordination with the technical publications department. We are able to update or upload new information simultaneously and in a centralized way, even if some aircraft are not at their base airport.

This means we not only benefit from the reduction in aircraft weight, but also from the simplification of flight routines, flight crew workload reduction and reduced time to perform a task, when compared to completing it using information in paper.

Could you give us feedback on the integration process?

Our EFB is integrated with our crew rostering and flight planning systems. Thales's expertise allowed us to overcome some difficulties within the implementation process and reach a solution which met our expectations. Our EFB solution is fully automated, capable of reading and writing information in our back-office systems, eliminating the need to perform manual inputs.

We are also able to manipulate information generated on each flight in a way which was never possible before. For example, using pilot submitted data after each flight leg, we'll be able to build an operational flight plan data warehouse. With this information we'll be able to very quickly and precisely analyze flight parameters, generate statistics and implement new procedures to further reduce costs and increase efficiency.

Would you recommend this solution to others?

Absolutely. Thales certainly has the know-how, expertise, experience and capability to help achieve a successful EFB implementation. Throughout the project SATA and Thales teams were in constant communication, readily available, very organized and working towards the same goal. It is a pleasure to work with the Thales team.


Thales TopWings EFB in numbers
• 174kg in paper manuals removed from the entire fleet, the equivalent to over 33,600 paper pages.
• More than 400 documents now available to flight crews on the EFB
• 30kg increase in available payload for each flight
Stay connected with us...