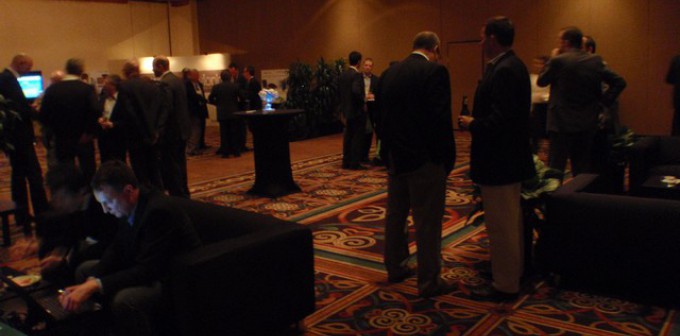 This annual event attracted a high-level international audience of industry experts to discuss avionics standards and maintenance issues. Over 750 people from airlines, airframers, Maintenance Repair Organizations (MROs) and suppliers were in attendance.
Thierry Diore, Technical Support Director Avionics Services Worldwide at Thales, says "Thales participates actively in the objectives of reliability increase and operating cost reduction all year round. The AMC is the place to showcase the work done by Thales Avionics in the maintenance domain and exchange on a variety of subjects with the airline community during the general session. This year's edition went well as the overall feedback was very positive for Thales".
Thales also welcomed the conference delegates in its hospitality suite where it showcased recent solutions and held demonstrations.
The new Electronic Flight Bag solution, TopWings, drew a lot of attention from both airlines and aircraft manufacturers. Thales is the first industry player to propose a customizable end-to-end EFB solution integrating hardware, software and services.
The Thales Integrated Standby Flight Display currently onboard on over 5,000 aircraft worldwide was also in demonstration. This version, that includes VOR/DME and Navigation features, is available for retrofit solutions on many aircraft.
Furthermore , ACSS (a Thales and L3-COM joint venture) was displaying cutting-edge capabilities through a wide range of surveillance equipment (TCAS, T3CAS, ADS-B Transponders) allowing the airlines not only to comply with the current and upcoming ADS-B mandates worldwide, but also to benefit today from state-of-the-art ADS-B based functions.
The demonstration of the Class 3 EFB from Astronautics, showing a Universal Cockpit Display of Traffic Information (U-CDTI) application, was also very successful.  This equipment, developed by ACSS and Astronautic  enables the display of SafeRoute ADS-B information in the cockpit.
Jean-Françis Manfroy, the Marketing Director for Avionics Services Worldwide at Thales Avionics states "the annual AMC/AEEC conference is a key opportunity for Thales to meet with a great number of customers and industry suppliers in the same place, setting the scene for plenty of fruitful exchanges. Moreover, Numerous technical side meetings also took place in the evenings and these too were also highly appreciated by customers. "