Thales Australia and CareFlight Group (Qld) to deliver first Australian civil helicopter training centre
Nov 18. 2014
Thales Australia and CareFlight Group (Qld) are set to launch Australia's first civil helicopter training centre. Thanks to this partnership, the nation's helicopter operators are set to benefit from world class full flight simulation training, tailored specifically for the requirements of AW139 air crews.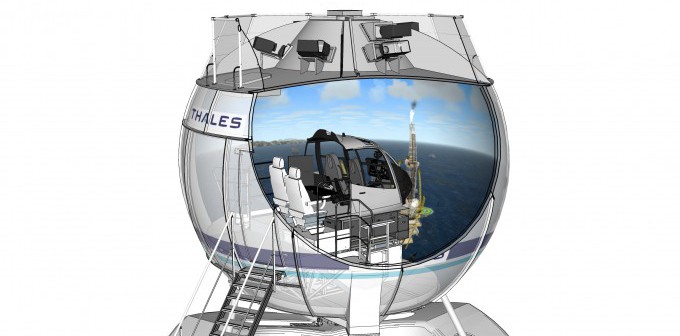 At the forefront of innovation in helicopter flight training, Thales's Reality H Full Flight Simulator (FFS), the most advanced civil helicopter simulator on the market, will serve the training requirements of CareFlight and other AW139 operators in Australia and beyond.
Fully compliant with CASA FFS Level D certification requirements and fitted with the latest Hexaline electric motion system, the FFS will support Type Rating, Instrument Rating (IR) and Recurrent training, along with tailor-made mission courses. Pilots and aircrew will be able to safely train in high risk scenarios such as engine or hydraulics failure, severe weather and offshore flying, including the use of Night Vision Goggle (NVG).
"This represents a significant milestone in civil helicopter training in Australia. Up until now this level of sophisticated helicopter mission training in Australia has only been available to military pilots," CareFlight Group CEO, Ashley van de Velde said.
"With the introduction of Thales's Reality H FFS, helicopter aviators will soon be able to train for their missions in an environment unrivalled for its realism, thanks to the latest Thales Simulation technologies, and without the dangers and costs inherent in using an actual aircraft." Said Jean Jacques Guittard Thales Vice President in charge of Training and Simulation Activities.
The FFS will be located at CareFlight Group's aeromedical training academy, which is based at the Brisbane International Airport at state-of-the-art facilities provided in conjunction with Aviation Australia.
The AW139 Reality H Level D Full Flight Simulator is currently under construction and will be operational in 2016.
"Thanks to the combination of Thales's technology with CareFlight's aeromedical training expertise, flight crews from throughout Australasia and beyond will be able to receive world-class training at an easily accessible location," Mr van de Velde added.
"In addition, there is the opportunity to access further training services offered by the CareFlight Group including underwater escape training (HUET), Emergency Breathing Systems (EBS), Crew Resource Management (CRM).
"CareFlight Group is excited to be able to partner with Thales Australia, a world-leading provider of systems, products and services to the international aviation industry," concluded Mr van de Velde.
Press Contacts
Thales Australia
Julian Elliott
+61 (0)2 8037 6031
Julian.elliott@thalesgroup.com.au
CareFlight Group (Qld)
Shan Veivers
+61 (0)7  5656 9509
photo credit: copyright Thales