Thales B787 achieves world-first parallel certifications
Oct 21. 2010
Thales's Boeing 787 simulator has achieved a world first in receiving parallel certification from the American Federal Aviation Administration (FAA) and the European Aviation Safety Agency. The Japanese Civil Aviation Bureau also took part in the parallel certification process.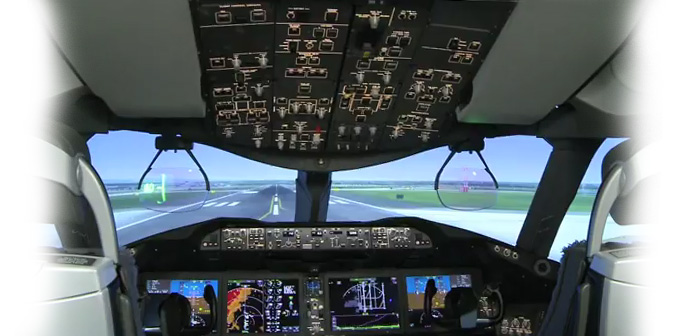 Before they can be put into service for flight crew training, flight simulation devices must be certified by the National Aviation Authority of each territory in which they will be used. They are rated on a scale from A to D (D being the highest), based on their fidelity to the real aircraft.
A full-flight simulator
The Thales Boeing 787 training suite includes a full-flight simulator, flat panel trainers and desktop simulation systems. The Boeing 787 simulator is currently rated as an Interim Level C, the highest fidelity possible with the existing aircraft data. As soon as the final data package is available from Boeing, when the aircraft enters service, the simulator will then move to Level D. At level D, following time in this simulator, a pilot can step into a new aircraft type without ever having had a training flight in that aircraft.
An industry first
"For Thales, this is another industry first, and we're pleased to have achieved that as a milestone in our contract with Boeing", said Marion Broughton, VP Avionics, Training & Simulation for Thales UK.
"It's also a significant affirmation of the partnership between Thales and Boeing, the relationship that we've built up, and the teamwork in this Boeing 787 contract," Broughton added.