Thales flight controls on board the first flight of Gulfsteam's G500
May 25. 2015
Gulfstream Aerospace's new G500 business jet, in development since 2008, has completed its first flight on May 18, 2015 in Savannah, Georgia, with Thales-designed flight control computers at the core of Gulfstream's Fly-by-Wire systems.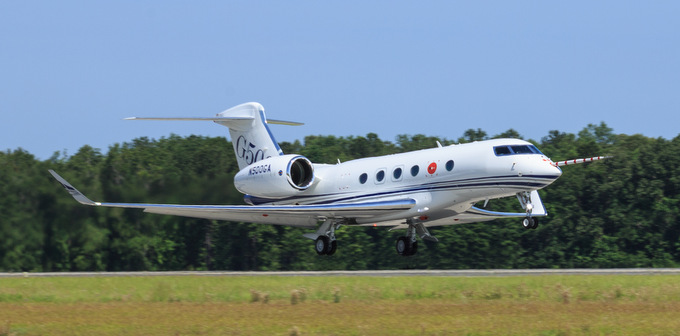 Gulfstream reports that during the first flight the crew used all primary flight control systems, evaluated handling qualities in takeoff and landing configurations, performed a simulated approach and go-around and checked all systems using the SymmetryTM flight deck touchscreen controllers.

The Thales flight controls benefit from the latest-generation architecture design, developed to ensure superior performance and safety whilst reducing weight and fuel consumption, resulting in optimized volume and dispatch rate. They will be more pilot-friendly as they will interface with active control sidesticks.

This first flight of Gulfstream's G500 test aircraft follows some 34,000 hours of laboratory testing on the ground. The G500 is scheduled to enter into service in 2018.



Thales flight controls on board G500 and G600

The Thales Fly-by-Wire (FBW) solution consists of two digital flight control computers and one backup flight control unit, using the latest-generation quad-dual flight control computer and modular packing. This electronic system, which is the core of an aircraft's FBW systems, controls the primary and secondary flight surfaces of the aircraft .It ensures superior performance, which translates into better handling qualities, improved comfort for passengers, enhanced safety, weight and volume optimization, and on exceptional dispatch rate. Thales's solution will interface with active sidesticks thus rendering flight controls more pilot-friendly.