Thales, a key player in the field of European aeronautical certification
Mar 11. 2015
Around 200 aeronautical certification specialists – from industry, academia and governmental institutions – met in Toulouse, south-western France, at the end of February for the fourth edition of the CTIC: Certification Together International Conference. As a proactive player in the field of incremental certification, Thales's certification initiative was noted by participants.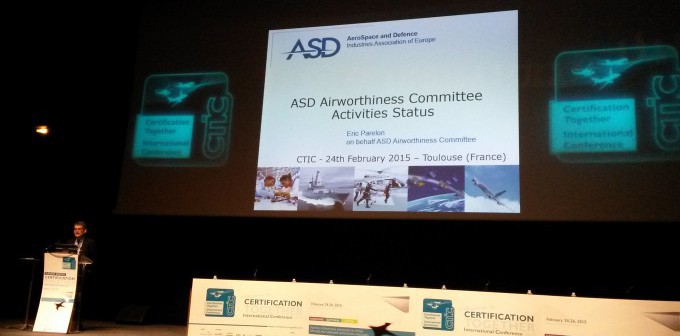 This bi-annual conference (held alternate years in the United States) serves as a platform to exchange and discuss the harmonization of regulatory frameworks and to assess market needs and their evolutions. Thales participates actively as well as being represented through bodies such as EUROCAE (Civil European Organisation for Aviation Equipment) and ASD (AeroSpace and Defence Industries Association in Europe).
Incremental certification enables the certification of bricks (equipment, functions) that are under development in order to facilitate their integration by aircraft manufacturers. This principle of incremental certification is well-appreciated by aircraft manufacturers, and they have specifically asked their suppliers to adopt this method of working. Beyond the industrial initiative, Thales is a leading player contributing to changes in regulations, as Thales experts working on certification have submitted texts which have recently been validated. During the conference, EASA (European Aviation Safety Agency) presented and highlighted Thales's work around the ETSO (European Technical Standard Order) and in particular the ETSO-2C153.
Thales also presented the process which is used and the activities conducted to obtain the UK military certification for the Watchkeeper programme in segregated airspace as well as its innovative step-by-step approach within the SESAR programme to expand operations to non-segregated airspace.
Several Thales Group delegates presented advanced work led on Hardware development tools and on demonstrators intended to improve productivity and to participate in the creation of standards, confirming the degree of expertise of Thales in these domains.
In an ever more complicated certification context, Thales is an key contributor to the simplification of processes and regulations and therefore a major partner for aircraft manufacturers on their current and future programmes," underlined Christophe Piala, Head of Projects & Policies Department - Le Haillan / Airworthiness Certification Directorate at Thales, at the end of the conference.