Thales to deliver innovative training solutions for Australian Defence Force helicopter pilots
Nov 17. 2014
The next generation of Australia's Army and Navy helicopter pilots will be trained using three Thales full flight simulators and a suite of other synthetic training devices. These will be supplied to the prime contractor Boeing Defence Australia under the Helicopter Aircrew Training System (HATS) programme.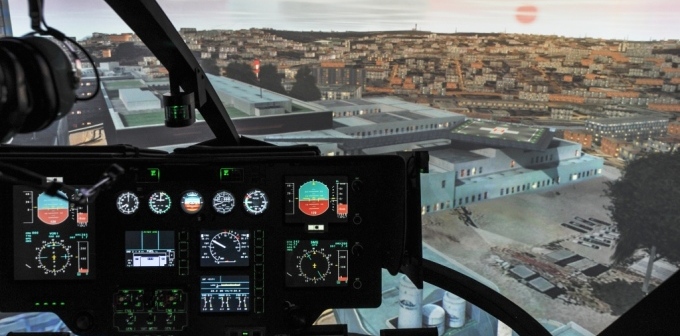 Key points
 Three Reality H simulators to be delivered to train the Australian Army and Navy helicopter pilots.
 High-quality training with FFS EC135 and other training devices.
 Powerful image generation system, reliable instructor control, and high accuracy motion system.
Thales will provide three EC135 Reality H Full Flight Simulators (FFS), its high-fidelity mission-orientated training system already in service around the world.
This modular state-of-the-art simulator provides improved operational efficiency and high-quality training supported by a powerful image generation system, reliable instructor control, and high accuracy motion system.
Chris Jenkins, Thales Australia CEO said: "We are looking forward to working closely with Boeing Defence Australia to deliver these superb simulators and associated equipment."
Beyond the simulators, Thales will deliver training courseware and services, including instructors to train the Australian Defence Force's Aviation warfare officers and Navy air crew sensor operators.
In addition, Thales will supply its Meghas avionics suite for the 15 EC135 aircraft to be provided by Boeing. Thales will also provide the IT infrastructure for the training school.
Notes to editors
Thales is a global leader in simulation, offering a broad portfolio of products, services and solutions. For helicopters, Thales solutions range from task trainers to full mission simulators, with more than 110 helicopter simulators delivered to customers in 25 countries around the world, notably for the Tiger and NH90.
About Thales
Thales is a global technology leader in the Aerospace, Transportation and Defence & Security markets. In 2013, the company generated revenues of €14.2 billion with 65,000 employees in 56 countries. With its 25,000 engineers and researchers, Thales has a unique capability to design, develop and deploy equipment, systems and services that meet the most complex security requirements. Thales has an exceptional international footprint, with operations around the world working with customers and local partners
Thales Australia is a trusted partner of the Australian Defence Force and is also present in commercial sectors ranging from air traffic management and ground transport systems to security systems and services. Employing around 3,200 people in over 35 sites across the country, Thales Australia recorded revenues of AUD 1 billion in 2013.
Photo credit: copyright Thales N.Durand