Where all of Thales's aerospace expertise comes together
Jul 25. 2017
It's been almost a year since the new site opened its doors — and people love it! They're getting used to the new working methods and have been quick to appreciate the innovative design and collaborative mindset that make the Thales Bordeaux Campus such a great place to work.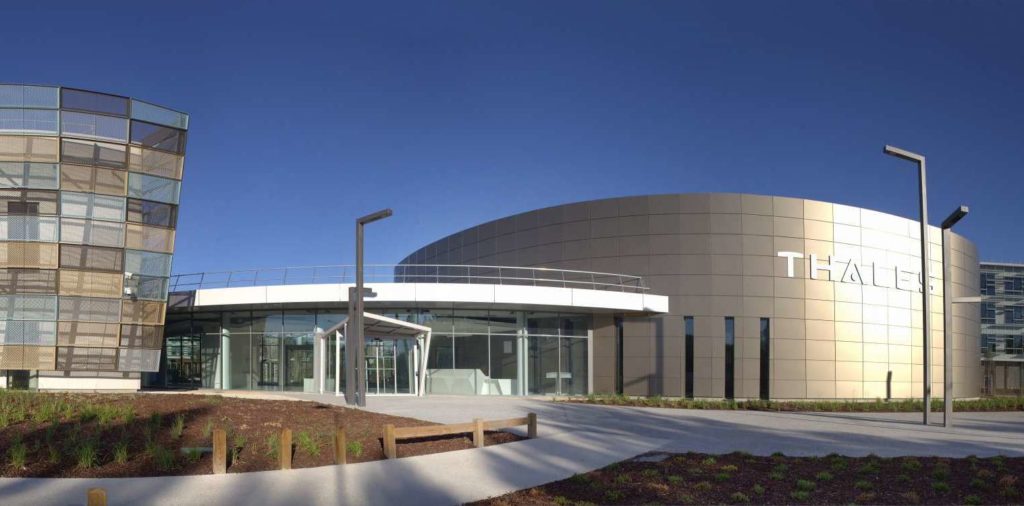 The new Thales Campus is the biggest industrial real estate project the Bordeaux area has seen in the last 40 years, and it was built on innovation from the ground up. With 60,000 sq.m. of floorspace, including 28,000 sq.m. of technical platforms and a 1,500 sq.m. Innovation Hub, it took 18 months of advanced engineering and construction to complete.

Today 2,600 employees from Thales's avionics and airborne systems businesses work at the Bordeaux Campus. It's one of the largest facilities in the region in terms of employee numbers and the only Thales site in France with 15 job families represented at a single location.

Customer experience and collaborative processes

The site was designed from the outset to optimise the customer experience and maximise opportunities for collaboration. This is where multiple disciplines work together, and with customers, to develop new avionics suites, cockpit displays, onboard radars and surveillance systems for civil and military aircraft. More than 35,000 aircraft and helicopters in service worldwide use equipment that relies on the experience and know-how of the people who now work at the Thales Bordeaux Campus.

The 1,500 sq.m. Innovation Hub, in particular, draws on the collective experience of Thales's civil and defence activities, helping to support the digital transformation and create value for customers by combining world-class capabilities in connectivity, artificial intelligence and big data with a unique understanding of the aerospace sector.

A whole range of capabilities and disciplines

The Innovation Hub is an ideal place for staff to work with customers, partners and other parts of the Thales organisation. It includes flexible collaborative spaces designed to optimise interaction and promote new working methods, a futuristic design centre to explore new concepts and a Fab Lab for fast prototyping. Drawing on a whole range of capabilities and disciplines — from industrial design and cognitive sciences to radar techniques and applied chemistry — it is a node in the global network of Thales Innovation Hubs.

Thales has been part of the local industry in the Bordeaux region for more than 40 years, and the Bordeaux Campus is within easy reach of the armed forces and aerospace companies that are Thales's customers. Importantly, it is right at the heart of a vibrant aerospace ecosystem that is flourishing in the Bordeaux area and includes major corporations, SMEs, startups, universities, research institutes and training organisations (Aerocampus, IMA, etc.) as well as high-tech clusters such as Aerospace Valley, Route des Lasers, Aetos (UAVs) and Topos (satellite positioning).

A year after the official move-in date, feedback about the Thales Bordeaux Campus is very positive. Synergies between the avionics and mission systems businesses are expanding. New working practices are taking root and the benefits of seamless interaction are becoming clearer by the day. And Thales employees appreciate the quality of life at this iconic new site in the heart of Bordeaux's aerospace country.

Find out more by watching the video below:
Stay connected with us...