All about Réplic'air's replica of a century-old Morane-Saulnier aircraft
Apr 18. 2013
Thales is partnering with the Réplic'air association who decided two years ago to rebuild the Morane-Saulnier aircraft used by the aviator Roland Garros to cross the Mediterranean Sea in September 1913. The aim of the passionate aviation specialists is to mark the centenary of this extraordinary achievement by flying the same route with the same type of aircraft 100 years on. D-day is scheduled for September 23rd, 2013.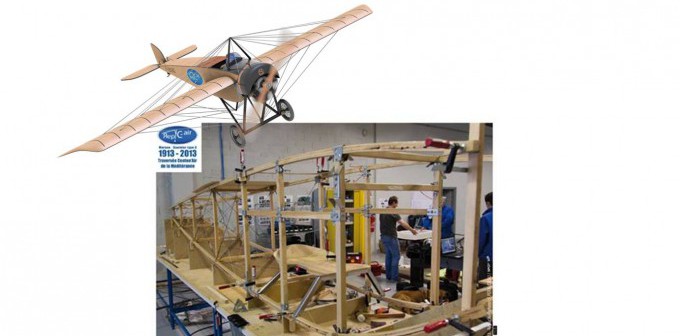 The materials being used (wood, metal and canvas) for the construction of the Morane-Saulnier Type G 2013 respect the original aircraft built 100 years ago. The fuselage is composed of rods, and ash and spruce wooden frames. The different elements are cut, sanded, varnished and assembled to the central section which will support the wings.
The side rods are linked by the wooden frames which constitute the main structure of the fuselage. Piano strings are used to ensure the steadiness of the structure and to absorb the shocks endured by the aircraft in flight.
The construction of the fuselage will soon be complete and is set to incorporate the elevator and rudder, full landing gear, and upper and lower pylons.
The Réplic'Air association seeks to honour the history of aviation by building and reconstructing vintage aircraft, whilst providing a truly a modern way to preserve the aeronautical heritage.
As a partner of Réplic'Air's adventure, Thales will continue covering the project over the coming months on Onboard, the Thales Avionics blog. 
For more information about Réplic'Air, visit Replicair's website (in French).