Avicopter and Thales sign memorandum of understanding for strategic cooperation on the establishment of a helicopter pilot training center
Nov 07. 2018 Avicopter, on behalf of the relevant investors of Aviation Industry Corporation of China Ltd, and Thales, signed a Memorandum of Understanding on the establishment of a joint venture helicopter pilot training center.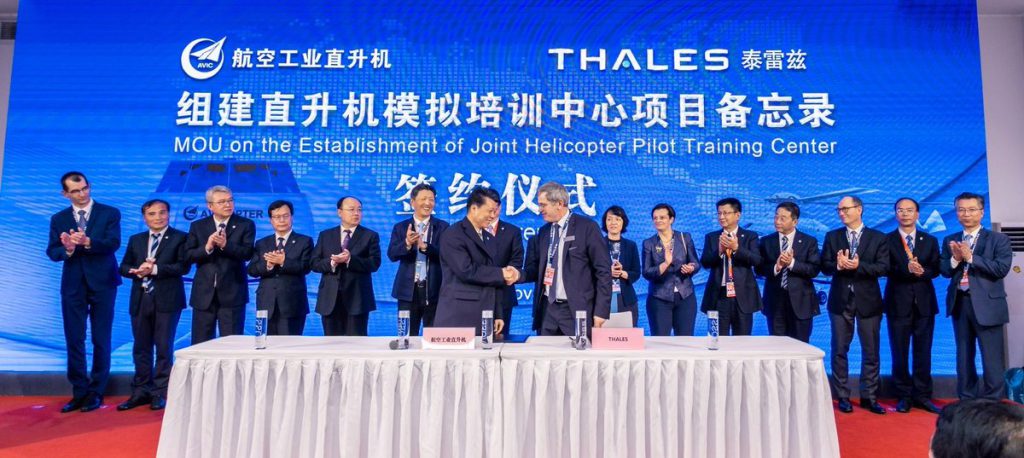 Avicopter is one of the world's leading helicopter manufacturers, developing, manufacturing and selling a wide range of helicopters for different markets.

Thales is a global leader in pilot and crew training solutions for civil helicopters. The Group has accumulated a rich experience in and ability to develop high-fidelity Full Flight Simulators (FFS) for various types of helicopters as well as helicopter pilot training courses and training schools, where they partner with operators and Original Equipment Manufacturers (OEM)s.

With the development of the Chinese civil helicopter market, the importance of providing helicopter pilot training services to ensure the safety of helicopter flight and missions has become crucial. High quality pilot training service is an important condition to obtain helicopter customer trust and loyalty, and to secure safe flights for helicopter pilots.

Thales and Avicopter's collaboration and mutual technical know-how will be able to bridge the gap between demand and supply of high-end equipment such as simulators and associated training services to meet the increasing demand for helicopter pilot training. The two groups will invest jointly to set up a helicopter pilot training center in China, and provide civil helicopter pilot training services, on multiple platforms, including AC312/313/352.

Avicopter and Thales have developed a shared and consistent vision to bring all necessary resources to successfully create a training center that will serve the needs of a new generation of Chinese helicopter pilots.
Stay connected with us...