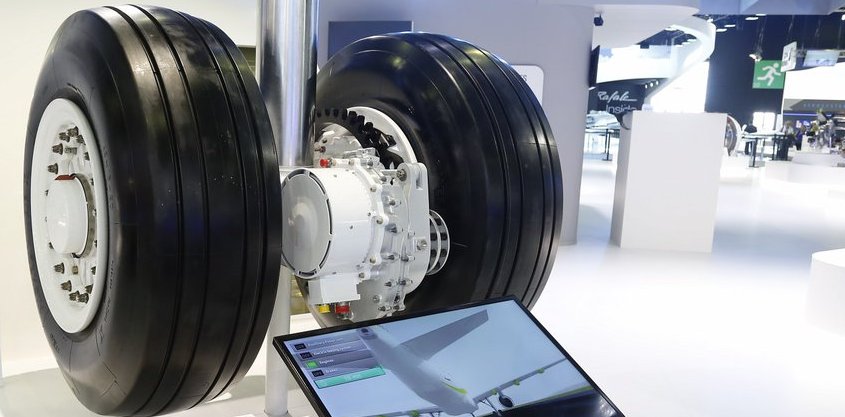 The taxiing phase of a flight can last anywhere from 15 to 45 minutes and consume as much as 6% of the aircraft's fuel payload because aircraft engines are not optimised for ground movements. Electric taxiing therefore offers some clear benefits for airlines, airports and the environment.

An aircraft fitted with the electric taxiing system can move around on the ground under its own power — without firing up the engines or using a pushback tractor — because it has electric motors installed inside the wheels of the main landing gear. The concept offers significant savings in fuel consumption and emissions, reduces noise levels at airports and lets airlines cut turnaround times, especially in busy periods with heavy traffic.

Safran Landing Systems has selected the high-power ATRU (Auto Transformer Rectifier Unit) from Thales for its unique performance and optimised power to weight ratio.

The partners will work together on integration of the Thales ATRU in order to adjust the design and optimise the interfaces for use in the electric taxiing system.

Safran Landing Systems will offer the system to airlines as an option, in particular on single-aisle aircraft. The first flight of an aircraft equipped with the electric taxiing system is planned for 2020 with commercial service due to begin in 2021. The project is perfectly aligned with the European CleanSky initiative and the NexGen programme in the United States.

Copyright photo: @Safran
About the ATRU
Capitalising on more than 60 years of experience, Thales provides fully integrated electrical power conversion solutions for regulated and unregulated conversion.
The ATRU (Auto Transformer Rectifier Unit) is a passive converter which converts 115 VAC voltage from the Auxiliary Power Unit to high-voltage 540 VDC (HVDC), helping to optimise electrical network design for more electric aircraft.
6%
Up to 6% of total fuel burnt on ground — E-Taxiing will save 50%
3,000
3,000 electric taxiing aircraft equivalent to taking 1 million cars off the road (fuel savings + CO2 emission reductions)
Stay connected with us...