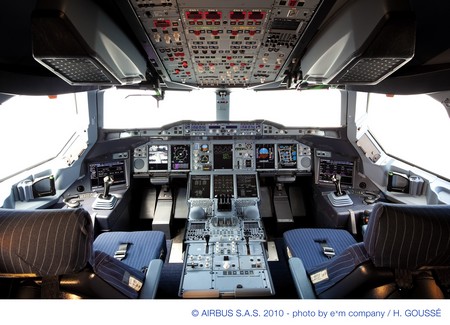 The HUD is a transparent display unit that enables flight control, navigation or mission information to be superimposed over the external environment. As such, it allows pilots to monitor data provided by onboard instruments while maintaining external situational awareness.
Increased awareness
Back in November 2009, Air France became the first customer to choose Thales's HUD on its A380. After the first commercial flight, pilot Patricia Haffner called the HUD "a major innovation". She explained that "[the HUD] means you can fly with your head up. It gives pilots much greater visibility... for example, it can tell you if the plane is about to go through or above clouds." Enhanced situational awareness is a key benefit. At just a glance, pilots have a full overview of the plane's avionic, electronic and air mass data. They can therefore identify any anomalies, and quickly react to potential problems.
Military experience
In the military domain, Thales supplies its HUD onboard the A400M. Here too, feedback has been extremely positive, with chief test pilot Ed Strongman commenting that "the HUD has been fantastic for the flight-test programme; we use it all the time as the primary flight display". For some time now, the military sector has regarded HUD as an essential tool. "The system is standard on the A400M, whereas it is an option on the A380," explains Michel Soler, marketing expert with Thales Avionics. "Our goal is for this type of product to become standard on all commercial aircraft in the near future."
Future development
Since launching with Air France, the Thales HUD has been operated on the A380 by Korean Airlines and China Southern Airlines, and a new Japanese client is expected to be announced in the coming months. The system will also be an option on the new A350 XWB. This time, though, the HUD was included in the initial design of the aircraft in order to be certified at its Entry Into Serv ice (EIS)– a sign of its increasing importance within the industry. Future developments for Thales's HUD could include an Enhanced Vision System (EVS), offering improved visibility in adverse weather conditions, a Surface Guidance System (SGS), providing a front view of the existing Airport Navigation System during taxiing phase, and a Synthetic Vision System (SVS), delivering augmented reality images of the outside world. "By adding these features, we hope to make our system an even more essential tool for pilots," concludes Soler.
 Photo credit:  ©Airbus S.A.S.2010-photo by e'm company/ H. GOUSSE