Intuitive, innovative, interactive: the cockpit of 2030
Jul 02. 2010
As the pilot enters the cockpit, displays and systems are automatically configured to their personal preferences. In front of them is a single 3D display showing weather, terrain and flight planning data in real time. The system continually anticipates the information pilots need, and any setting can be modified by simply touching the screen.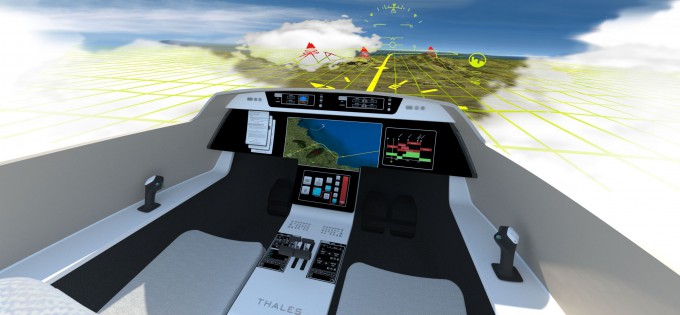 This is the vision for Thales's cockpit 3.0 of the year 2030. It is a cockpit that adapts to the crew's needs, conceals system complexity, and is supported by intuitive interaction. Consequently, it is smaller, safer, easier to use – and requires significantly less training.
A crew-centric approach
"At Thales, we believe the crew is the main asset of the cockpit", said Denis Bonnet, the head of Safety, Interaction & Human Factor at Thales Avionics. "Pilots are therefore the starting point for our research, and the cockpit must play to their strengths and deal with their weaknesses."
This crew-centric approach focuses on three main areas:
 Bridging the gap between user and system
Instead of making users adapt to the system, the system will adapt to users, taking into account their abilities, mood, intentions, preferences and background. Research is currently focused on empathic systems, which automatically anticipate pilot needs and adapt the cockpit accordingly.
Helping users handle complexity
By hiding its inner complexity, the cockpit 3.0 will improve the user experience, thus reducing training and reaction times in the cockpit. Automation is a key research area, notably in offering user-centric system management for pilots with less technical knowledge. The use of data merging will also provide pilots with a clear overview of the information they need.
Supporting new interaction languages
Human System Interaction will become more intuitive. More natural interactions, such as the use of touch screens and 3D displays, will make the cockpit more user-friendly, while dematerialisation will help reduce device footprint and increase the display area.
From lab to cockpit
Thales is already developing ergonomic, user-friendly interfaces and tactile screens. An innovative partnership with the University of Bordeaux - named Albatros - is also delivering excellent results in helping pilots to anticipate challenges and find the most appropriate solution. Other partnerships focus, for instance, on replacing all cockpit displays with a unique extra-large touch screen or on integrating iPhone-like multi-touch interactions into the cockpit.
As they become available, these new features will be integrated into future Thales offerings – but Denis Bonnet warns that any innovation must account for user habits. "New cockpit technologies must be intuitive. For instance, thanks to devices like the iPhone, touch screens are now widely used. And that means touch-enabled cockpits will rely as much as possible on the same type of interactions so as to get the most out of pilots' skills," he said.