Motoring around Mars
Feb 24. 2017
Building on its successes with Ariane 5 and Galileo, Thales's avionics business is back in orbit on the European Space Agency's ExoMars programme. This time our high-performance electrical motors are powering the spectrometer suite that is circling the red planet looking for signs of life.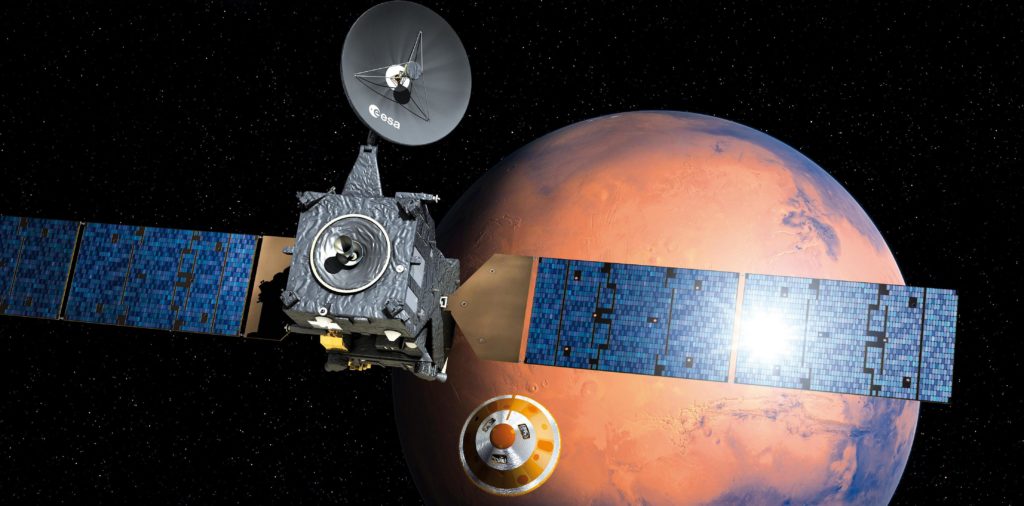 To learn more about the expertise needed to develop electrical motors and actuators for the extreme conditions of the Martian atmosphere, we spoke to Michel Barre, product engineer, and Alexandre Moureaud, marketing and sales manager for Thales Avionics Electrical Motors.

The European ExoMars Trace Gas Orbiter (TGO) space probe entered Mars orbit in October 2016 and is carrying four science instruments. One of these is the Nadir and Occultation for Mars Discovery (NOMAD) spectrometer.
NOMAD was developed by the Royal Belgian Institute for Space Aeronomy (BIRA-IASB) as part of an international consortium. It uses the Sun as a light source to determine the composition of the Martian atmosphere. Scientific measurements will begin in July 2017, once the satellite has reached its final orbit, and will continue for two Martian years (four Earth years).

Extreme conditions

Thales supplied the gear reduction units for NOMAD. These are used to activate a shutter mechanism that sets the optical systems in motion. "We know a lot about the space environment and working in tough conditions like extreme variations in temperature, which can range from –50 to +100 degrees," says Michel Barré. "We use extremely sophisticated manufacturing processes that guarantee an in-orbit service life of over 35 years for our equipment, with no failures. Extremely low power consumption is another key feature of our electrical systems, given the limited energy resources available on a satellite."

Thales Avionics Electrical Motors has over 70 years of experience in motors and actuators, and was first involved in space programmes in the 1970s. Its credentials include solutions for the International Space Station, the Vega launcher and Europe's Intermediate eXperimental Vehicle (IXV) atmospheric re-entry demonstrator.
"Weight, power consumption and dependability will continue to be the key differentiators," says Alexandre Moureaud. "We're are working hand in hand with Thales Alenia Space to prepare the disruptive technologies that our customers will need to reach new frontiers in the future."

It takes a very special set of skills to develop bespoke solutions for each space programme, but Thales applies the same high-tech expertise to other military and civil applications, such as missiles, commercial aircraft engines and valves for offshore oil platforms.
"In the space sector, other major opportunities are in the pipeline. Space agencies like ESA and CNES appreciate being able to work with dependable partners that can offer innovative solutions while guaranteeing the quality and traceability they need," concludes Alexandre Moureaud.

ExoMars unravels the red planet's mysteries

Mars has long inspired our imaginations, but what do we really know about our closest neighbour? In search of answers, the European Space Agency and Roscosmos, its Russian counterpart, are venturing 50 million kilometres into the solar system on the ExoMars programme. Their scientific goal is to study the Martian atmosphere and, in particular, determine the origin of methane and other trace gases, which could be evidence of past or present life. The first mission set off 2016 to study trace gases in the Martian atmosphere. The second one, with a landing probe and instrument suite, is scheduled to launch in 2020. And one day, hopefully, the ambitious programme will help to answer the question that has intrigued star-gazers for over a century — is there life on Mars?

Sophisticated manufacturing processes guarantee an in-orbit service life of our equipment of over 35 years with no failures.
Stay connected with us...