New-generation EFB: a unique positioning spanning all aspects of the pilot's routine
Aug 17. 2015
Following the recent partnership agreement between Air France and Thales, OnBoard looks at the development of this new generation of EFB (electronic flight bag) applications with Sébastien Veigneau, Air France pilot and project leader for digital transformation of flight operations.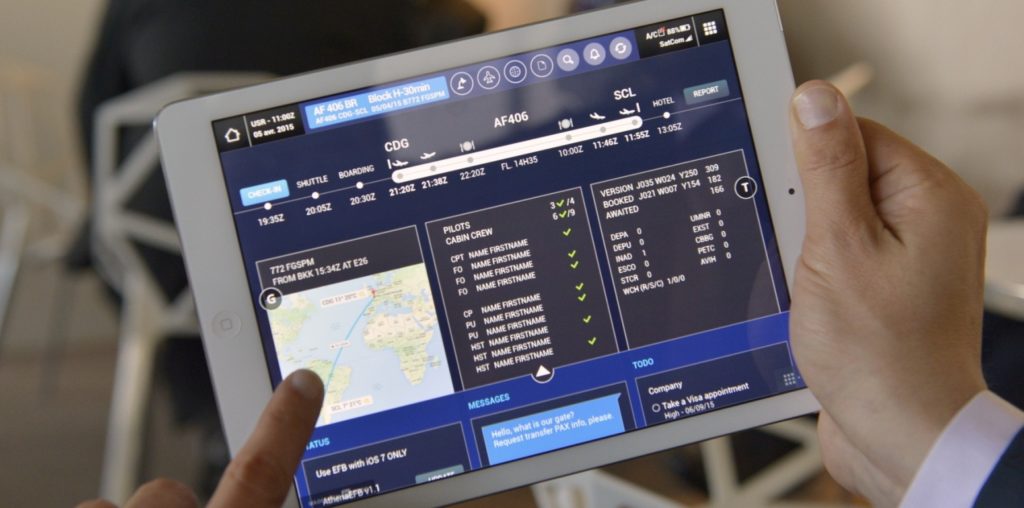 Why did Air France choose Thales as partner for the development of these new applications?
Air France had started developing a number of EFB applications on iPad. As a result of talks with Thales, we decided to work together on an EFB software solution of the future, because Air France and Thales have highly complementary expertise in this area. Thales is contributing its engineering experience and knowledge of avionics, while Air France has the operational expertise with its pilots as well as a background in developing mobile applications at its IT department.

How is the workshare organised between the Air France and Thales teams?
We've appointed a number of 'product owners', mainly Air France pilots, who are part of the teams of business analysts and developers. Each team is responsible for one function of the application, which is built around three broad categories of functions: documentation, mission and situation awareness, or how information is displayed. A chief product owner ensures the overall cohesion of the product. We've adopted the Agile methodology, widely used in the development of mobile applications, to bring together the world of pilots and the world of IT development and in turn ensure that the application meets actual operational requirements as closely as possible. The project is managed jointly by Thales and Air France, with tasks allocated in a way that allows the most effective partnership.

What are your expectations of this new solution?
We're looking for a solution that's simple and efficient, which is a real challenge in the highly complex world of aviation. To this end, we need to orchestrate a whole host of basic functions within a complex system, so that the overall solution is simple and contributes to air safety and operational efficiency. It will be an integrated solution. In other words, it won't just be a collection of separate applications, but will benefit from a homogeneous and cohesive interface for all modules, leveraging all the benefits of close integration.

How will this solution benefit pilots on a routine basis?
Centralising all the information they need in a single location will help pilots work more efficiently. In terms of technical documentation, imagine hundreds of pieces of information that are amended every month and need to be updated. With the new solution, these updates will be automated. But it's in the way these updates are presented and registered by pilots that the benefits of an electronic version will really be felt. Pilots have to adapt the way they work to changes made to manuals and documents, so a clear and concise presentation of all this documentation in electronic format is fundamentally important and a real help in the processes of assimilating it. Another example is the mission-related functions. A flight bag contains between 30 and 100 pages, and a pilot has about 30 minutes to read through it and note what he needs to know. A conventional paper-based flight bag is not the best way to draw attention to key information. By contrast, its electronic counterpart offers a whole range of possibilities. One key advantage is the graphic presentation of data, which is constantly updated, because the tablet is connected, whereas in print format it's static. It's high time we utilise these new technologies, coupled with connectivity, to help pilots in their work. Expectations are high. These technologies have already been widely adopted in light aviation, so why not in commercial and military aviation as well?

Which applications add the most value?
We're moving from static information to a world of dynamic, real-time connectivity. This connectivity gives us access to whole new areas of information and functionality, such as real-time weather reports. It enables us to draw up the best flight strategies, with obvious benefits in terms of air safety, passenger comfort and reduced fuel burn. Ultimately, pilots will be better able to focus on the key tasks and leave the more routine operations to computers.

How has this solution been received by pilots?
Very favourably, because it's developed by pilots doing the same job as them, so it closely reflects their requirements. Because it's a modular and scalable solution, it can be readily adapted to the needs of each airline. The solution marks a real breakthrough in various respects, including the user interface, its interactive design, produced by specialists, and its extended functionality. To date, no one else is positioned across all aspects of the pilot's routine. We're already leading the way with the use of EFBs and we're now looking to contribute to the airline industry standards of tomorrow.

Find us on Twitter @thales_avionics and on our official Youtube channel Onboard TV.