New IESI solutions for new platforms
Jun 02. 2011
As the world leader in the domain of civil IESI (Integrated Electronic Standby Instruments), Thales is building on its extensive experience to deliver the Night Vision Imaging System (NVIS) IESI, a security solution specifically adapted to the military market.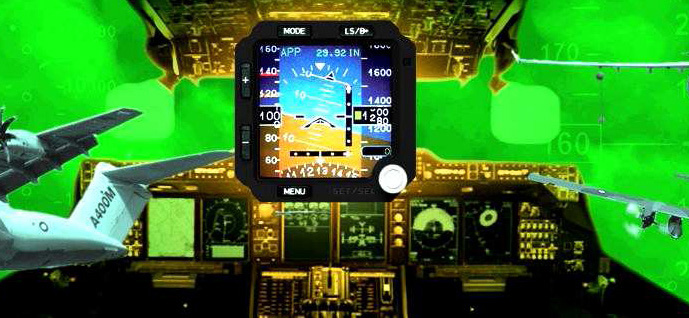 Like all IESIs, Thales's new military NVIS IESI is a back-up safety device, offering vital flight data in the event of primary display failure. Unlike many comparable devices, it delivers  three functions (altimeter, airspeed and attitude) in a self-contained Line Replaceable Unit (LRU), offering a compact, all-in-one solution.
"Loaded with our latest technology, the solution delivers top-level performance and reliability that will ultimately reduce direct maintenance costs compared to legacy stand-by electromechanical equipment", explains Mathieu Franco, Export Marketing and Sales Manager at Thales. In addition to that, many components come from the commercial aircraft market, meaning Thales produces them on a larger scale securing also long-term support for military operators.
Night vision
Another characteristic is the NVIS, which enables pilots and crew to use the instrument in dark night-time conditions. "Our aim is, above all, to give pilots a degree of comfort and continuity", says Franco, "by providing the same visual references and chromaticity for operations at every hour of the day."  The device can be changed from day to night mode at the flick of a switch.
Range of options
NVIS IESI also features extended graphic generation capabilities with easy symbol customisation, fast prototyping and product integration. Furthermore, the graphic interface comes with built-in scalability to benefit from future developments.
With the NVIS IESI, Thales offers a large portfolio of options for customers to choose including an ILS (Instrument Landing System) display for precise landing approaches, VMO/MMO (Vertical Maximum Operating / Mach Maximum Operating) for maximum speed settings, a slip/skid indicator, integrated back-up radio control for VHF and VOR (Very High Frequency / VHF Omnidirectional Range), and many more. "We are offering a product that is customization-friendly ", explains Franco.
The solution has also been designed to withstand exposure to high vibrations, sudden changes in pressures and elements such as sea water: factors that are often encountered during military missions.
Interests
IESI NVIS has already been selected for tanker and transport missions. "This solution is an excellent example of how Thales successfully exploits synergies between its civil and military operations", notes Franco, "and we are expecting several more contracts in the near future".
"Top-level performance and reliability that will ultimately reduce direct maintenance costs"