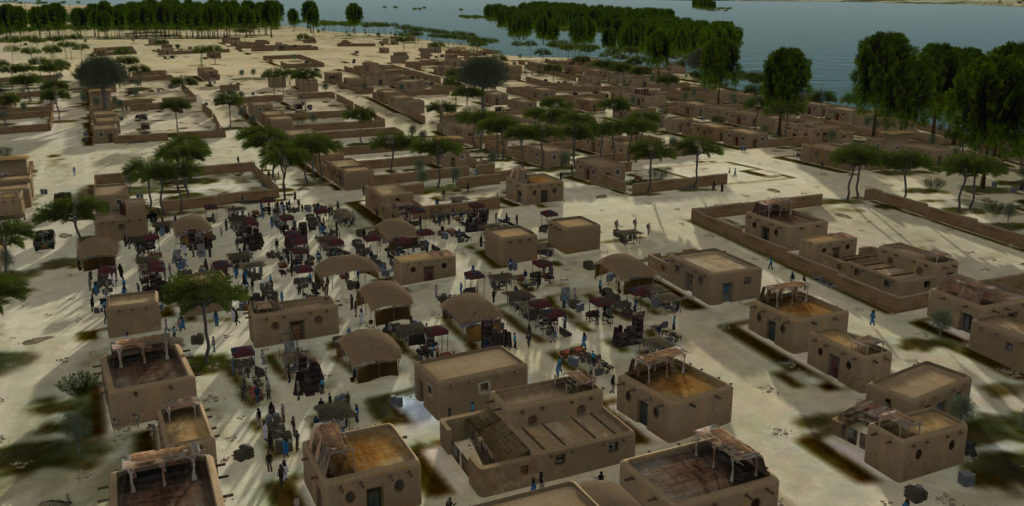 Working closely with the French military in particular, Thales has pushed back the limits of what can be achieved when reality and virtual technologies interact. Pilots on live missions face a whole set of unknowns — they generally do not have a detailed knowledge of the terrain, for example — but the latest generation of visual databases from Thales represents a real breakthrough in this respect. With this new technology, aircrews can familiarise themselves with the operational environment on a simulator before each sortie.
In Mali, for example, visual databases of aerial photographs provide a highly detailed and accurate picture of the theatre, with a level of precision down to 50 cm and on three scales (600 x 300 km, 400 x 250 km and 300 x 200 km). "With Thales's real-time image-generation technology," says Jean-Christophe Lejeune, head of simulation programmes, "these visual databases and details of the operational environment can simply be fed into the simulation system for training and mission preparation."

As well as providing pilots with detailed knowledge of the terrain, Thales technology is also used to develop ever more sophisticated training exercises. Thanks to an artificial intelligence application, pilots can be totally immersed in complex scenarios, with hundreds of virtual entities, both friendly and hostile. "These virtual entities respond to the pilot's behaviour," says Joël Flinois, helicopter simulation product line manager at Thales. "They can fire their weapons, take cover or change course, making the new scenarios extremely realistic and enhancing the operational value of the training."

"The key benefit of the system is that scenarios can evolve over time and as the mission unfolds. Nothing is predictable!" Instructors can devise new scenarios based on recent live operations and train pilots for increasingly complex and demanding missions.

In addition, several Helicopter Mission Trainers (HMT) and Full Flight and Mission Simulators (FFMS) can take part in a training mission at the same time. With this ability to interconnect multiple simulation systems, Tiger helicopter crews at the French Army Light Aviation (ALAT) training school in Le Luc, for example, can train with crews from the three ALAT combat helicopter regiments at Pau, Étain and Phalsbourg in preparation for real-life collaborative missions.

"Pilots tell us they feel better prepared," says Jean-Christophe Lejeune. "They have a better knowledge of the terrain before they take off so they can integrate faster and fly their missions more safely and more effectively." "We need to be proactive to make the training as effective as possible using new technologies," concludes Joël Flinois. "We need to constantly stay abreast of the latest developments in mission profiles and meet the growing demand for coordination with other forces.
One area we are exploring today is the best way to incorporate virtual reality, augmented reality and cloud simulation technologies into our current and future developments."

Find us on Twitter @thales_avionics, on our official Youtube channel Onboard TV and on LinkedIn Thales Aerospace.