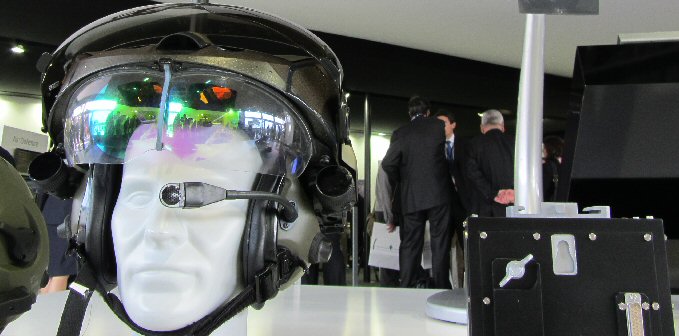 Various avionics capabilities featured on the Thales stand. One of the flagship exhibits was the TopOwl helmet-mounted sight and display (HMSD) system, currently the most advanced HMSD available on the market. The TopOwl system, of which 1,000 units have already been delivered, is demonstrating its operational benefits and its ability to increase mission success rates on a daily basis.
The Group's simulation capabilities are developed in synergy with avionic activities. The Reality Mission exhibit at Eurosatory demonstrated a global, modular upstream simulation solution aimed at optimising in-theatre decision-making, coordination and manoeuvres. Users are immerged in a high-resolution geo-specific 3D terrain based on satellite imagery. Real dynamic terrain capabilities and communication means (a simulated Battlefield Management System) ensure optimum training realism.
Finally, a Sherpa 2-type vehicle illustrating Thales's integrated multi-mission and multi-vehicle electronic systems capabilities featured an IMU (Inertial Measurement Unit) which was originally conceived for avionics applications. The IMU makes it possible to provide continuous data about vehicle and troop positions in isolated areas where the availability of GPS data cannot be guaranteed.
Video highlights: