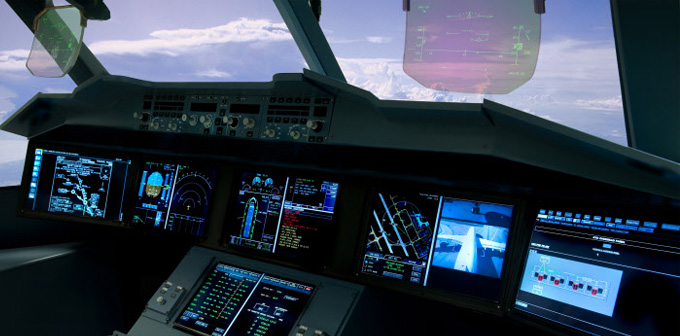 The basic function of the HUD – which will be available as an option in dual-configuration onboard the A350 - is to superimpose flight information onto the pilot's external view, improving situational awareness and overall safety.
Thales won the contract for the entire Display Global Work Package (DGWP) for the A350 cockpit. This system consists mainly of 6 displays to be featured in the cockpit, as well as the HUD and the Onboard Airport Navigation System (OANS). This has expanded Thales's scope from the A380 cockpit, for which its HUD is currently available as an option in either dual or single configuration.
The integration of the HUD and OANS into the DGWP, with software hosted directly in the displays, has meant that the associated calculator is no longer required and more space will be freed up. This will reduce the system's weight by 15kg and its electrical consumption by 150w. The newly streamlined system is also likely to reduce the need for maintenance, which could contribute to lowering operational costs.
"Thales's HUD was part of the initial design of the A350 and will get certification when the aircraft enters into service, meaning quicker delivery to customers," said Michel Soler, marketing expert with Thales Avionics.
The HUD made its long-range aircraft debut onboard the A380 with the November 2009 entry into service of the aircraft with Air France, the first airline to operate the Thales HUD in dual configuration for this aircraft type.
"We have received very positive feedback from Air France pilots on the performance of our HUD onboard the A380," said Soler. Thales, the only HUD supplier to Airbus, has also received HUD orders for the A380 from Korean Air  and China Southern Airlines, with deliveries scheduled for next year. The system is also available on narrow body Airbus aircraft.
"HUD on commercial aircraft is now a real trend. Our goal is for this type of product to become standard on all Airbus aircraft in the near term," said Soler.