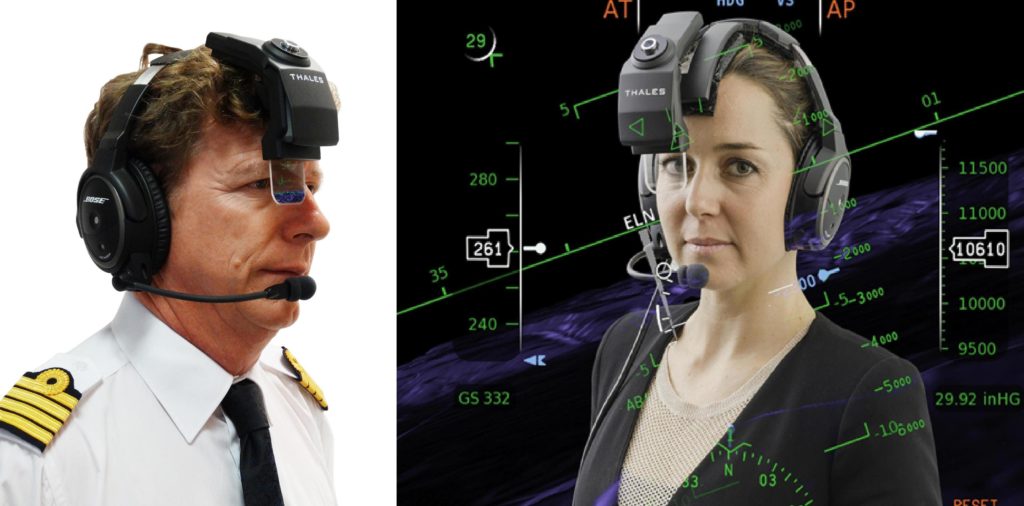 First demonstrated at the Paris Air Show 2015, TopMax is the result of Thales's decades-long experience in military helmet-mounted sight displays (HMSD) and civilian head-up displays (HUD). The Group's innovation teams have sought to address the contradictory needs for an affordable, compact head-up vision system with an extra-large field of view for the civilian market, to complement existing HUD systems. This represents a complex technical challenge for the whole civil aerospace market, and much more for smaller business aircraft.

Thales worked on the challenge by drawing inspiration from vision systems available in the consumer tech industry and, using assets from military HMSD, they designed a brand new system that can be worn by civilian pilots and does not require a large fixed mount.

A bridge between HMSD and HUD

The result is TopMax, a lightweight head-worn display that completely bridges the technological gap between a military HMSD and a civilian HUD. TopMax provides low visibility take off/landing functions, Enhanced Flight Vision and Synthetic Vision capabilities of a fixed HUD, but like an HMSD, it provides a 360⁰ field of view and total eye-out functionality.

To add to this Thales was able to integrate functionality at the heart of its HMSD products, including head tracking system for target designation and cueing functions. This evolution enables a civilian pilot to look at objects like 3D traffic to better understand their position and, in some cases select them, like waypoints, for inclusion of direct destination in the Flight Management System, in the same way a military pilot can select targets visually for inclusion in targeting operations.

This translates into significant benefits to business jet pilots, whose mission types, in certain respects, are not far-removed from military missions. Both face challenges such as approach and landing at smaller airports with low visibility conditions and require a high level of situational awareness in a highly flexible operational context. With TopMax, pilots are thus able to achieve their mission and serve the needs of their passengers in a more efficient and safer way.

Thales has been flight testing TopMax on board a Cessna/Reims F406 and a Daher TBM 700. After flights lasting two hours and more, the feedback from pilots has been extremely positive.


Find us on Twitter @thales_avionics, on our official Youtube channel Onboard TV and on LinkedIn Thales Aerospace.