Thales keynote at EASA event illustrates the value of Mixed Reality for helicopter pilot training
Oct 14. 2021 Joël Flinois, Product Line Manager for Thales's Training & Simulation activity, was among the keynote speakers at a recent European Union Aviation Safety Agency (EASA)/Halldale Group series of talks about Immersive Technologies in Aviation Training. His presentation focused on how helicopter pilot training can benefit from the use of so-called Mixed Reality capabilities, which position real views of cockpit instruments in a fully virtual environment.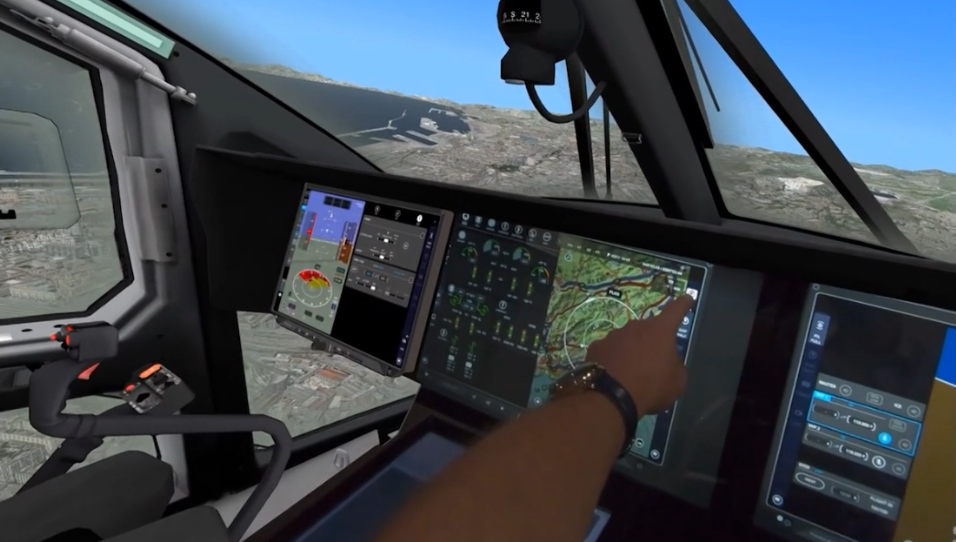 The online event was part of EASA's ongoing campaign to drive the modernisation of simulators and training devices with a view to integrating new technologies that enable more compact and more affordable systems. 
Joël Flinois's talk sought to highlight that while Virtual Reality (VR) is well-suited to single pilot light helicopters, an extra dimension is needed when looking forward to the new generation of helicopters that integrate complex avionics systems and touchscreen interfaces. "And this is where Mixed Reality comes in," says Joël, "solving these limitations by merging real views of cockpit instruments in a fully virtual environment, and enabling the pilot to interact with the cockpit as in real life."
View Joël Flinois's keynote talk:

Joël's presentation also served as an introduction to Thales's Heli-Mission trainer, combining touchscreens – which the pilot can manipulate – and a VR helmet which accordingly positions the view of the helicopter structure and the outside environment, making for a fully-immersive flight training experience. In addition, the keynote looked forward to further developments, such as the incorporation of additional capabilities to deliver CBTA (Competency Based Training Assessment) and Human Factors analysis.
After the event, Joël shared his thoughts: "There are definitely high levels of interest in how Mixed Reality technologies can be utilised to provide enhanced means of pilot training, and at Thales we are only too pleased to provide our view of what can be achieved, and explore the immense potential that Mixed Reality represents, to make pilot training as both as effective and as accessible as possible. Thanks to the new solutions that we can implement for pilot training, Thales is contributing to the EASA Rotorcraft Safety Roadmap objectives".