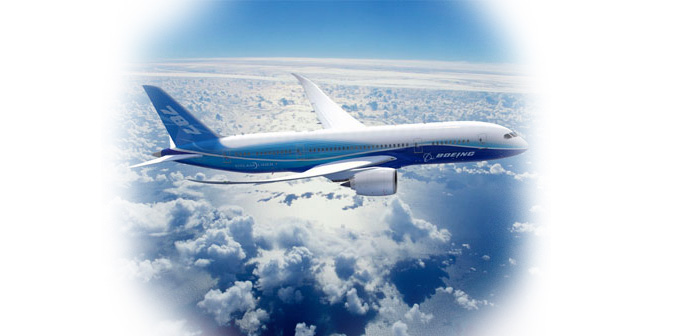 The 787 represents a leap forward in terms of fuel efficiency, lower maintenance costs, reduced impact on the environment, as well as in passenger comfort. Thales innovations contributing to these breakthroughs include lightweight systems for power conversion, for the cockpit, as well as for in-flight entertainment (IFE).
Powering the 787
Thales is currently completing final qualification testing to certify the power conversion system (PCS) it provides onboard the 787. The company is recognised as a major systems integration partner, leading a number of subcontractors in supplying the aircraft's PCS.
The PCS brings a number of technology "firsts" to the commercial air transport market, helping to efficiently power the vast array of consumer systems onboard the B787 with lower environmental impact.
Ensuring safety
Thales is making final software adjustments for the integrated standby flight display (ISFD), a crucial device it developed for the 787 cockpit. This complex instrument combines information about attitude, altitude, airspeed, heading, and location all in a single display for the cockpit crew.
If reference to the primary instruments were ever lost during an emergency situation, the crew would be able to continue flying the airplane safely by using this ISFD.
Entertaining passengers
Thales IFE, available as an option to 787 customers, is qualified and ready to go. The TopSeries system for the 787 series not only enhances passenger well being, but its reliable design also reduces operational costs for airlines by minimising the need for maintenance.
It features fully digital, interactive audio and video on demand IFE. State-of-the art 16:9 widescreen displays and slim-line passenger control units will give users extensive entertainment choices.
Qatar Airways recently confirmed its selection of the Thales TopSeries system for its 787 fleet. Other airlines to have chosen TopSeries for their 787 aircraft include: British Airways, LOT, Royal Air Maroc, Air China, Air India, China Eastern, Hainan, Japan Airlines, Korean Airlines and Shanghai.
Anticipating the best
Many months of hard work alongside Boeing have almost wrapped up and Thales looks forward to the 787's certification and first delivery!
Power conversion "firsts" from Thales
the first time that electrically-powered brakes have been used on a commercial passenger aircraft,
the first time that a 270 volt HVDC high-voltage system has been used in the commercial air transport market - increasing the power-to-weight ratio compared to existing systems,
the first time that lithium-ion batteries and a lithium-ion charging system have been used, further increasing voltage.
The Boeing 787 at a glance
The new generation Boeing 787 is a mid-range wide-body aircraft that boasts significant improvements in fuel efficiency and a more pleasant cabin environment for passengers.
What will immediately strike passengers when they enter the 787 is the spaciousness of the cabin. The windows have been repositioned and enlarged. The cabin will also be maintained at higher pressure and humidity levels than current airliners, improving passenger comfort while also reducing fatigue.
Boeing has designed the 787 with a structure up to 50 per cent derived from composite plastic materials, meaning the aircraft is relatively light. The offshoot of this lighter structure is a 20 per cent reduction in fuel requirements compared to existing models in its category.