Thales scrum simulator: the story behind the machine!
Jan 31. 2013
The unique scrum simulator conceived by Thales is currently making waves thanks to its star performance in the "All in pour les Bleus" advertising campaign being run by the French rugby team's kit manufacturer Adidas throughout this year's Six Nations rugby tournament.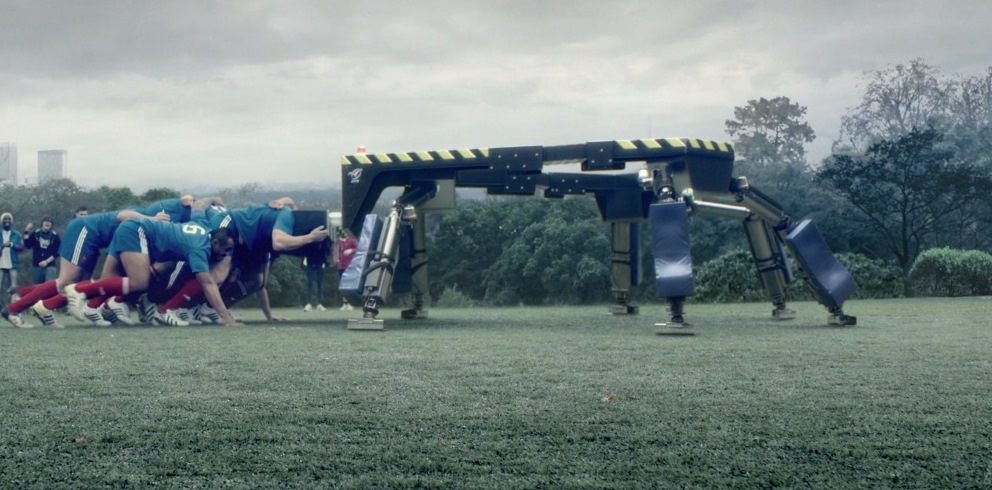 The bizarre six-legged robot-like machine has been permanently stationed at the French national rugby training centre in Marcoussis, near Paris, since June 2010. It was developed by a team of simulation experts at Thales in conjunction with national scientific research institute CNRS and the French rugby federation (FFR) over a period of several months.
Initially conceived to analyse the risk of scrum accidents with a view to preventing spinal injuries, it soon became clear that the simulator could also be used as an innovative and valuable tool for coaching purposes and match preparation.
Six-axis motion system
The simulator uses a six-axis motion system to respond to player inputs (force and motion) via sensors installed behind the beams/shoulder pads. It reconstructs scrum movements by moving the beam left and right, backwards and forwards, up and down.
Unlike a straightforward muscle development simulator, which measures force only, the simulator is designed to develop sensory-motor control, with individual player weaknesses reducing the overall effectiveness of the scrum formation. The simulator identifies these weaknesses and in turn makes the scrum more steady and stable. According to Thales project engineer Serge Couvet, "The scrum members need to make the formation move as a single man"
Sensors located between the beam and the simulator structure measure the engagement forces of each player. The simulator reacts in real time, according to a pre-programmed control strategy.
"The simulator is revolutionary," comments Dr Julien Piscione, senior research consultant in biomechanics and head of the FFR's science unit. "Not only is it the first simulator of its kind ever developed in the world, it is also the first time that neuroscience has been applied to simulator design."
The scrum simulator project was conducted as part of a management-transition training programme at Thales. Development was led by Didier Retière, the coach who was in charge of the French forwards at the time, Pierre-Paul Vidal, CNRS research director at Université Paris Descartes and a specialist in neurosciences, Julien Piscione, senior research consultant in biomechanics and head of the FFR's science unit, and Serge Couvet, simulation engineer at Thales.