Thales is taking helicopter simulation to new heights!
Nov 07. 2018 As a world-renowned specialist in helicopter simulation capabilities, delivering new and disruptive technologies to operators and training centres worldwide, Thales is ideally positioned to support the booming helicopter market in China.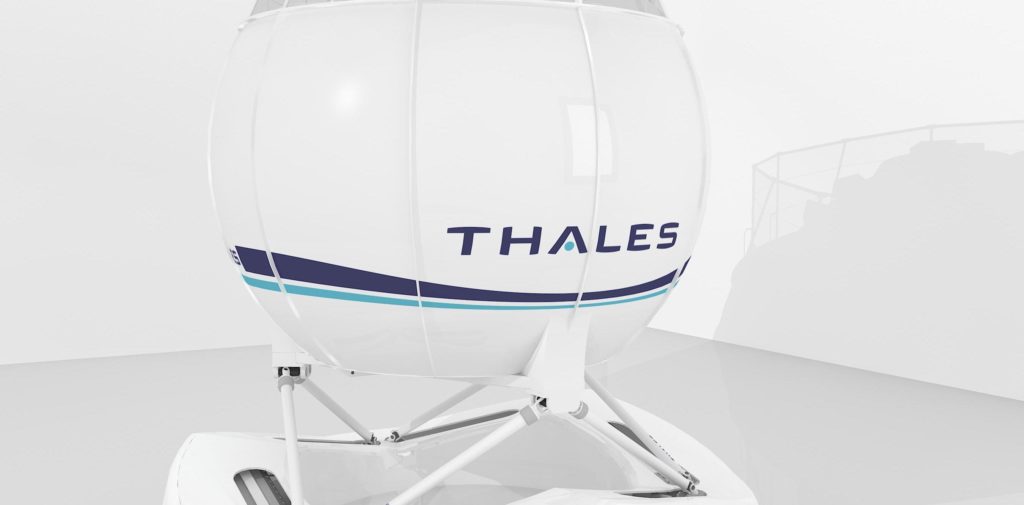 Thales is regarded as a pioneer in the field of helicopter simulation, with the first Level D helicopter Full Flight Simulator (FFS) and the first helicopter Flight Navigation Procedure Trainer (FNPT) both delivered in the early 2000s.

Ever since, Thales has worked in close conjunction with Europe's Aviation Authorities (EASA) on the definition of new standards for helicopter training and simulation in Europe. Thales can now capitalize on that experience to support the development of high-end simulators and associated training services in China. Thales's Reality H EC135 Full Flight Simulator (FFS) was recently qualified level D – the highest level of fidelity – by the Civil Aviation Administration of China (CAAC). This simulator is housed in the Aviation Safety facilities, a Haite Group flight training centre in Tianjin.

Thales is also constantly breaking new ground in terms of embedding innovation into simulation resources. Across this sector, which had long become associated with modelling systems built around classic technologies, Thales has rolled out new and disruptive approaches, such as the use of the revolutionary all-electric HexalineTM motion system, which is synonymous with smoothness, high velocity and low maintenance requirements. Another innovative and high-performance feature of the Reality H FFS is its state-of-the-art visual system with an extended visual display of 230°x80° field of view, combined with high-resolution geospecific visual database imagery, and integrating the latest generation high-resolution projector system.

On this basis, over the past few years, Airbus Helicopters has looked to Thales to provide simulators and training solutions for its latest platforms, such as the H160 for which Thales is the benchmark simulator supplier around the world.

Beyond the technological aspects of simulation, Thales is well-established as a key player in the development of dedicated training centres. Since founding joint venture Helisim with Airbus Helicopters in the early 2000s in France and announcing the development of Helisim Inc. in the US in 2018, Thales has created the blueprint for certified helicopter training academies worldwide. In this way, Thales is making rapid headway with a view to achieving the goal of ensuring future helicopter pilots work in an industry with the same safety record as those in the fixed-wing market.

Thales's helicopter simulation capabilities also draw on the Group's key role in the helicopter industry at large, from the design and manufacture of helicopter cockpit avionics systems, solutions and services, to the supply of electrical generation and conversion systems. In addition, Thales's status as a frontline player in air traffic management systems also enables the Group's training devices to embed highly-realistic scenarios and situations.

In China, the helicopter market is growing at an annual rate of 25%, and the knock-on effect is the immediate requirement for high-performance devices to train a whole new generation of helicopter pilots, both commercial and private.

The stakes are high and the added value of an experienced simulator supplier is crucial to be able to safely prepare these new pilots. Indeed, pilot training requires high levels of skills and expertise to develop the kind of high-end equipment that has been certified by aviation authorities.
Thales has been present in China for more than 30 years, and today boasts a 1,300-strong workforce based across four facilities (Beijing, Chengdu, Hong Kong and Shanghai) along with four joint ventures operating in the fields of aerospace and transport. Training and simulation is a definite lever for sustained growth of the helicopter market in the country and is ideally matched to meet the demanding flight safety and mission readiness requirements of helicopter operators and pilots as the sector continues to expand.
Stay connected with us...