Thales training simulators discover America
May 14. 2018 Helisim, a joint venture between Airbus and Thales, operates Europe's leading training centre for helicopter pilots and is about to open a new facility in the United States. Operated by Helisim Inc. in Grand Prairie, Texas, the North American training centre will be equipped with Thales's latest simulators, and opens up new opportunities for the Group. Frédéric Mangeant, head of services for Thales's training and simulation business, explains how.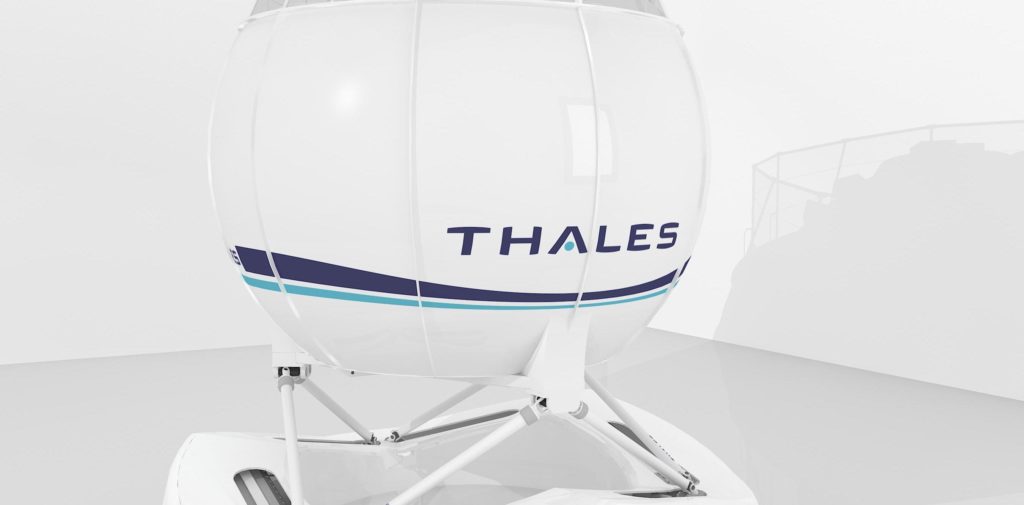 What is Helisim?

Helisim was set up by Thales and Airbus Helicopters in 2000 to provide simulator-based training for pilots. The centre is located in Marignane, near Marseille, and offers a wide range of training services for civil and military customers. Helisim is one of the leaders in its field today, employing 50 people and training around 3,000 pilots a year — the equivalent of 11,000 training hours — to fly the latest-generation platforms, including the H175, AS365 N2, H155, AS332 L1/L2, H225 and NH90.

What can you tell us about the new US facility?

It will be located in Grand Prairie, near Dallas, Texas, and will be entirely developed and operated by Helisim Inc., a Helisim subsidiary. Thales will supply Reality H full flight simulators for the Airbus H145 and H175 civil helicopters, which will be the first Level D simulators for these platforms in North America. The new facility will meet the full spectrum of helicopter crew training requirements, from theory instruction to hands-on recurrent training.

What kinds of training will the centre provide?

The simulator for the H175 helicopter will be delivered in its latest version, which offers more options, including a wider range of operational scenarios. Training will be mainly aimed at pilots working in public services, search and rescue, offshore oil and gas support and passenger transport. Training on the H145 simulator will be focused on security and law enforcement operations, emergency medical services, transport to oil and gas platforms, executive and private transport and air support for various applications.
The simulators at the new centre will be qualified to the European EASA and American FAA standards, so that we can offer training to as many pilots as possible.

How does Thales's Reality H simulator meet these requirements?

Reality H is the most sophisticated helicopter simulator on the market today. It's the perfect fit for flight and mission training on these two models of Airbus civil helicopters, which are expected to be hugely popular in America.

These simulators use the most advanced simulation technologies and provide the most realistic synthetic environments for all types of operational scenarios encountered by civil and commercial pilots. The innovative modelling technologies used in the Reality H draw on a number of key components developed by Thales. Chief among them is the unique HexalineTM all-electric motion system, which provides extremely realistic motion cues to trainees while requiring less power and maintenance. Reality H also features an advanced audio system compliant with the requirements of Level D qualification. Its very large 240° x 80° field of view, coupled with the ThalesView™ Image Generator (IG), creates a highly immersive environment for trainees. The Computer Generated Environment (CGE) developed by Thales includes smart virtual entity management to create a wide variety of mission scenarios. And the integrated Instructor Operating System (IOS) is positioned behind the trainee crew for better monitoring of each exercise and features an intuitive interface and a flexible scenario creation tool.

At Thales, we are developing the Reality H to make it the new standard in high-end helicopter simulation, enabling training centres around the world to prepare crews for their missions with the highest levels of realism and in complete safety.

What new opportunities does this facility open up for Thales?

It's another step forward in our partnership with Airbus Helicopters, a world-leading OEM. Helisim has been a big success in Europe since it was formed almost 20 years ago, with 150 customers sending pilots from all over the world. Today it's the right time for the company to expand its operations internationally.

We decided to work with Airbus Helicopters to provide initial support for this development in the United States, helping Helisim to set up a new reception area and additional simulation facilities at the Airbus Helicopters site in Grand Prairie to meet the future training requirements of their North American customers.

This partnership builds on the contract signed in 2015 to provide three flight simulators for the new H160 platform. The first Reality H for the H160 will be delivered to Helisim's facility in Marignane in late 2019. The second will complete the line-up at the Grand Prairie training centre.

We're working in partnership with Airbus Helicopters to provide Thales training and simulation expertise for most of their new platforms.
Stay connected with us...