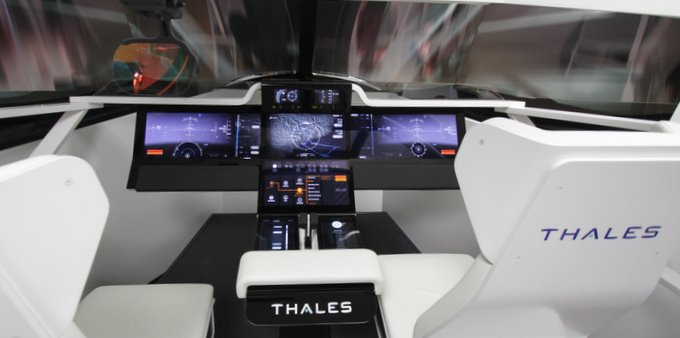 This cockpit is the natural evolution of the cockpit concept for which Thales has become famous, the ODICIS demonstrator. Presented at the previous Paris Air Show, the ODICIS concept illustrated the technologies and innovations Thales imagines will be rolled out on commercial aircraft in the next 20 years. With the groundbreaking Avionics 2020 cockpit, Thales is demonstrating the technologies and concepts manufacturable now and which can be made flight-ready on commercial aircraft in the coming seven years.
Avionics 2020 incarnates a new-generation cockpit founded on the principles of natural and direct hands-on interaction and human-machine interfaces, designed to serve the pilot through the use of the latest head-up and head-down technologies.  The concept is built around modern and effective cockpit implementation which integrates a large, secure display area associated with several reconfigurable means of control. This user-friendly organisation of the cockpit incorporates multi-touchscreen capabilities, offering pilots an intuitive interaction solution comprising all aircraft systems and functions.
Continuing on from the most important innovations presented on the 2030 concept, Avionics 2020 is centred on enabling pilots to capitalise on their strengths and helping them manage their weaknesses. Thales has therefore worked closely for a number of years with researchers, scientific institutions and world class experts in the field of human-machine interface, to refine its understanding of this field of development.
Most significantly, this cockpit anticipates the future challenges of the air transport industry and the  continuing efforts to maintain growth trends in air traffic, whilst at the same time reducing carbon emissions, noise pollution and ease congestion in the skies without compromising safety standards. This critical future proofing is accomplished with the integration of SESAR and NextGen capabilities so that the pilot can easily and efficiently use the full range of the new functions required by these programmes.
Future capabilities:
-          I4D operations, which consist of giving the pilot a time constraint at metering point to each aircraft converging to this point, in order to better sequence traffic.
-          D-Taxi (Digital-Taxi) functionalities will be included in the cockpit. D-Taxi is a real-time uplink of the cleared taxi route via CPDLC (Controller-Pilot Data Link Communications) and representation of the taxi path in the cockpit systems.
-          ASAS (Airborne Separation Assistance Systems) will also be displayed. ASAS spacing helps create a regular traffic flow by ensuring an aircraft adjusts its speed so that it can keep its spacing relative to another aircraft, and therefore merges according to the requirement set by the controller.
-          ECO Take-Off, will be available on the Avionics 2020. ECO Take-Off is an optimised take-off and climb profile in order to define the trade-off between CO2 emissions and noise reductions.
Denis Bonnet, Head of Innovation for the Cockpit Competence Center at Thales says: "This is a seminal moment for us and the industry. We are showing the world that a cockpit designed around more seamless interaction between the pilot and the electronics is no longer a purely intellectual concept, but a viable commercial application which, as more and more functionalities and tasks are added to a pilot's workload, will become essential for the future of air transport."
Picture credit: Thales Avionics/Benoît Serieyssol