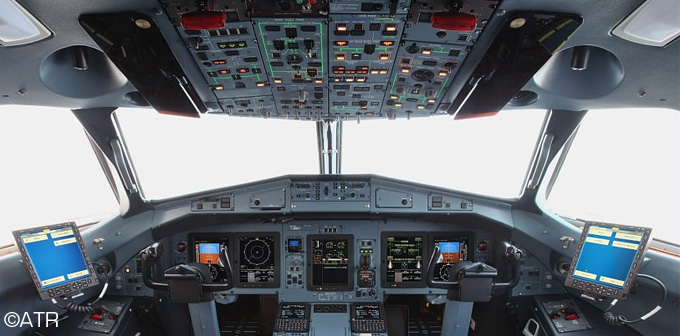 Conceived in the mid-80s, the ATR -600 series of turboprop aircraft, comprising the 72-600 and 42-600, has been given a full avionics makeover with a top-of-the-range avionics suite featuring modular, open architecture. Thanks to a scalable latest-generation avionics, the aircraft is also now equipped to benefit from future technical developments.
Thales started work on the new ATR 72-600 in 2007, and has implemented a host of innovations, bringing technology developed for the A380 to regional aviation. In total, each aircraft incorporates 69 different Thales fittings.
Cutting-edge functions
The cockpit features five wide-screen LCD displays, a leading-edge Flight Management System (FMS), a new flight warning system, a latest-generation automatic pilot, and advanced communication and navigation systems. It is also the first regional aircraft to feature an AFDX (Avionics Full Duplex Switched Ethernet) network. "The result is a greatly simplified environment for pilots, meaning reduced stress and workload", explains Olivier Boniface, ATR -600 Programme Director.
Partners
"We worked extremely closely with ATR to make sure we could launch quickly, as factors such as the high expense of fuel mean this aircraft is perfect for the current market", adds Boniface.
Overall, the project involved some 350 Thales experts and 32 subcontractors. As a tier-one systems integrator, Thales was involved in everything from defining ATR's needs to certification. "With ATR's help, we soon evaluated what needed to be retro-engineered to accommodate the new avionics suite", says Olivier Boniface.
2011 deliveries
The first ATR 72-600 has already been delivered to Royal Air Maroc, with the aircraft set to enter into service in July. A further five airlines should also take delivery before the end of the year, with other customers also lining up: during the recent Paris Air Show ATR announced a record number of sales for this new aircraft.
As part of its service, Thales initially provides each airline with a systems engineer to ensure the avionics suite is used to its full capacity. "Being present at every step is what a partnership is all about", concludes Olivier Boniface.