Delivering the best support and services portfolio to airlines and helicopter operators
Jan 09. 2019 The support and services provided by players like Thales to airlines and aircraft operators enable seamless delivery to their end users. To get the full story, we met Briac Kerihuel, VP Sales & Marketing for the Thales support and services worldwide business.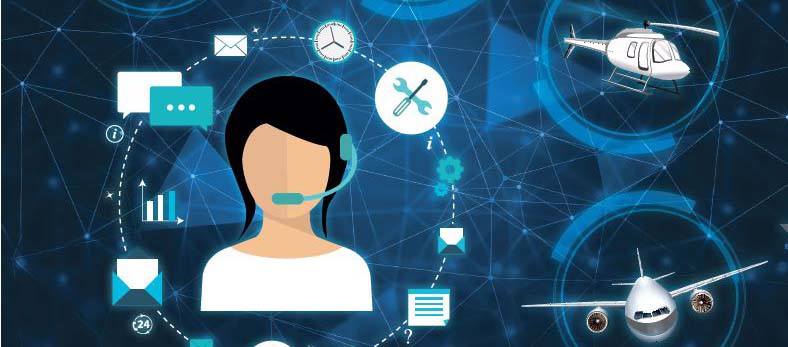 Our first question focuses on the types of services Thales is positioned. Can you tell us a little more?
Thales is primarily positioned alongside the airlines and helicopter operators as a trusted partner, present in their daily lives to better understand their needs and respond with customized services.
Our range of services covers the complete life cycle of aircraft and helicopter from the selection  of optional equipment and support to entry into service until the end of life of the aircraft or the helicopter.
During the operational phase, Thales offers airlines and helicopter operators a full range of services for equipment maintenance, logistical support, equipment or system modifications, and support for flight operations. To meet our customers' operational challenges, our offer is regularly enriched with new digital solutions.
From equipment purchase to repair only to turnkey service contracts, whatever the customer needs, Thales has an adapted service. The proposed solution can vary to include innovative solutions for flight efficiency, such as flight planning for the pilots.  
When you refer to a "large portfolio of solutions", are these packs or customized offers?
As I said before, we adapt to the profile and needs of each client. We currently work with more than 800 airlines and nearly 2,000 helicopter operators. Some have one or two aircraft and others count more than 300 in their fleet, thus, we must take into account their organization, their specific needs, and their operational specificities, to offer them the best adapted support and the best services.
As for "best services", what do you do better than other MROs (Maintenance, Repair, and Operations players)?
I would say ask our customers! Our quality of service is praised by our customers. Each year we are ranked among the best suppliers of support and services by the aircraft manufacturers. Airbus notably conducts its 'Airbus Supplier Support Rating' survey among 150 airlines and for 2017, Thales achieved the score of "Excellence" on the quality of its repairs. Behind these results, there are two facts: expertise and organization.
First, we are an Original Equipment Manufacturer (OEM) that translates to having better knowledge and expertise of our equipment. Not only thanks to our technical support teams who constantly analyze behavior, propose corrections, and ensure the optimization of equipment performance and reliability, but also by the presence of our support teams closer to the airlines, and finally, thanks to the expertise of our repair technicians.
Second, our entire organization is dedicated to a common goal: enable our customers to maintain their fleet at the highest level of performance and ensure continuous fleet availability.
How can you reach such level of customers' satisfaction?
 Thanks to our high-performance industrial centers, a lean and agile logistics and supply chain, and the development of new digital services. These allow Thales to deliver to its customers the right equipment, at the right time and, at the right place, anywhere in the world.
And finally, in figures this time: our support and avionics services structure comprises five repair centers including three hubs (one on each continent), more than 20 support centers, 1,200 passionate employees and more than 100,000 operations each year.
Thanks to all its assets, Thales brings the best of service and avionics support and value to airlines and helicopter operators.
And to conclude, what do you promise your customers?
The main focus of airline business is to fly people around the world, offer them a new passenger experience, comfort and entertainment.
Our objective is to allow our customers to focus on the essentials: optimize their operations and satisfy passengers with flights that are always on time. To do this, we take care of their equipment and we are committed to providing the services that meet their needs, with efficiently.
Ultimately, their passenger satisfaction goal is also ours!
Stay connected with us...