Falcon 5X first flight with Thales on board
Jul 11. 2017
Dassault's Falcon 5X, the wide body twinjet, performed a 2-hour maiden flight from Bordeaux-Mérignac final assembly facility on 5 July, incorporating many inspiring innovations, including a Thales-built and optimized system for the generation and conversion of electrical power.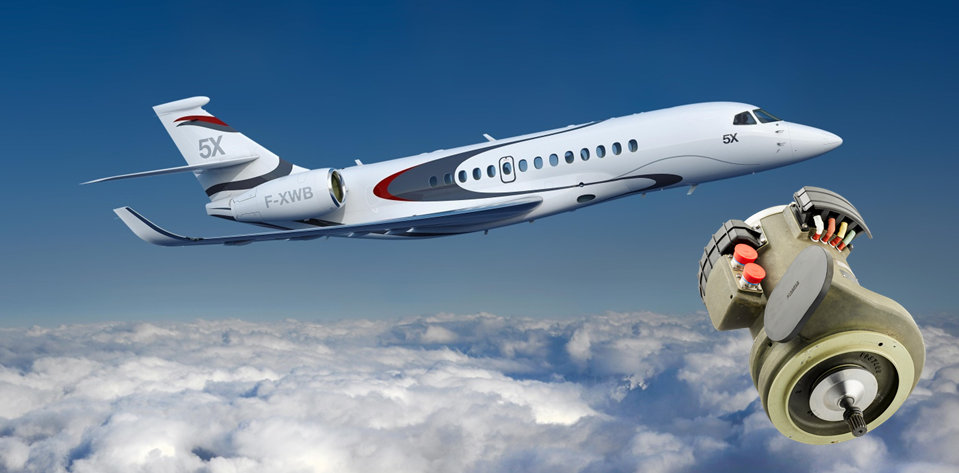 The Thales TopStart™ for the new Falcon 5X business jet benefits from optimizations reached during various concept development and demonstration stages over the past two decades addressing the challenges of electric engine starting via alternative current starter generators.

This is the first time Dassault Aviation has chosen a brushless starter-generator for one of its aircraft. The combination of electrical starting and power generation functions in a single unit leads to a better trade-off between weight, size and power than on any other aircraft in the same category. The extensive use of electrical power in this new business jet represents a significant step forward towards a more environmentally-friendly aircraft and will significantly reduce the total cost of ownership.

A world first in advanced electrical solutions

Each aircraft will be equipped with two starter-generators for the main engines, one starter-generator for the auxiliary power unit, three digital regulators, one electronic starter converter and three transformer rectifier units.

Thales is a major player in designing a wide range of electrical starter, generator and converter technologies currently in service on board various types of large-capacity transport aircraft, regional transport aircraft, business jets and helicopters.

This milestone paves the way towards the More Electrical Aircraft. The Falcon 5X performed the 2-hour flight with a preliminary version of the Safran Silvercrest® engines and will now embark on a short, preliminary flight-test campaign. The full-scale certification campaign will begin next year once Safran delivers certifiable engines for an entry into service of the airplane scheduled in 2020.
Stay connected with us...