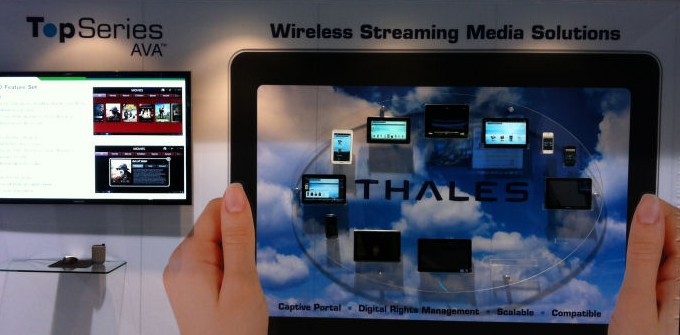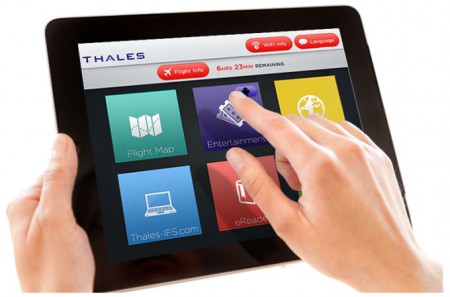 The aircraft will start the trial in December 2012. LATAM Airlines Group (airline group that includes LAN Airlines and its affiliates, and TAM Airlines and its subsidiaries) currently operates the largest South American fleet of A320.
Beyond wireless within the aircraft, LAN will use the Thales GateSync™ system, a secure ground network for aircraft communications and content loading. GateSync relies on proven Wi-Fi (802.11), WiMax (802.16) and GSM connectivity frequencies and can stream content and data across all three networks simultaneously or individually. The combination of TopSeries AVA, GateSync and other Thales services creates a unique, fully connected end-to-end platform. "This is an exciting trial for us at LAN, as we are on the cutting-edge of technology in South America and it reinforces our leadership in the region. This trial in the regional market is aligned with our vision of giving our passengers the best possible travel experience and shows that LAN is always looking at the latest trends in technology" said Fernanda Toro, Travel Experience Director at LAN Airlines.
LAN and Thales have been gearing up for this A320 trial since early 2012 bringing together every detail including the captive portal seen by the passenger once logged into the system. The portal reinforces the LAN brand and allows passengers to access a wide range of capabilities that includes flight map, films, short subjects, music, latest news, games, eReader and a special version of LAN's website. "The launch of AVA is a natural progression in our TopSeries product line that gives airlines another option in terms of how they interact with passengers. We are thrilled about this program, a leap forward with the use of wireless connectivity," said Alan Pellegrini, Chief Executive Officer for the Thales In-flight Entertainment and Connectivity business.
Specific end-user portal covering:
flight maps
films
short subjects
music
latest news
games
eReader
a special version of LAN's website