Preparing for the Chinese boom
Nov 29. 2010
It's no secret that the Chinese market is expanding quickly – and aviation companies everywhere want to be part of this growth. Thales has reinforced its position in the region with the recent signature of a Letter of Intent with the Commercial Aircraft Corporation of China (COMAC) and a Memorandum of Understanding with China Electronics Technology Avionics (CETCA).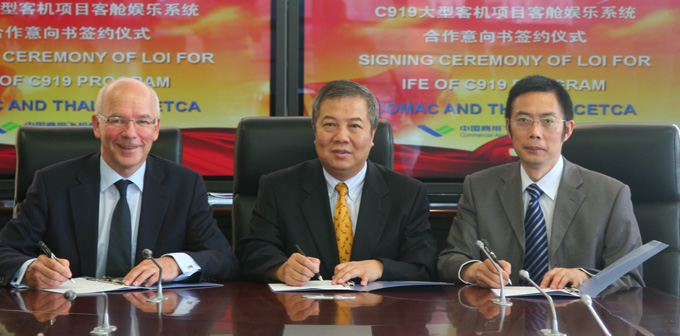 These agreements lay the groundwork for a joint venture that will see Thales integrating its IFE systems onboard COMAC's upcoming C919 aircraft. Designed and built in China, the 156- to 190-seat C919 is scheduled to take flight in 2014.  Onboard spoke to Olivier Guibert, President of Thales China & North Asia, to find out more about how the company is preparing for future growth in China.
What do these deals mean to Thales?
These contracts are very important, as they help strengthen our leadership of the Chinese IFE market. The C919 will eventually move onto the international market – so it has the potential to generate a lot of business for us.
How would you describe Thales's position in China?
We have a solid footing in China, as we've been here for 30 years. Today our main areas of activity are aerospace, air operations, space and urban  rail transportation. Overall, we have around 600 people spread across 10 companies or joint ventures. Our avionics customers include all airlines in China and our IFE has been selected by Air China, China Eastern, Hainan Airlines, Shanghai Airlines  and China Southern.
What makes China such an important market for Thales?
The Chinese aerospace market is growing 10-20% annually, with a huge increase in demand for airlines, passenger traffic, airport facilities and air traffic management. This growth is forecast to continue over the long term and that's why Thales must continue to increase its presence in the country.
What are Thales's main opportunities for expansion in China?
Our main objective is to accompany the development of infrastructure in China.
One important growth area is Air Traffic Control (ATC). In China's next 5-year plan, which will be revealed in March 2011, the government will announce plans for new airports. As a supplier of ATC systems and landing equipment, this is a great opportunity for us. We're already well positioned, as we provide ATC systems to the country's three main airports: Beijing, Shanghai and Guangzhou.
Another opportunity will come around 2012, when Chinese airspace is opened up for business jets and helicopters. Additional surveillance equipment will be needed, especially in Western China, which currently has little air traffic. As a leader in ADS-B (Automatic Dependant Surveillance – Broadcast) systems, we see this as a real opportunity that will bring even more prospects in the general aviation market.