Seat-centric approach boosts passenger
Nov 20. 2011
For the second year in a row, Thales has won the APEX Avion Award for Best in Technology. This year's prize-winning innovation is the Smart Video Display Unit Gen 4, a seat-centric IFEC solution that comes with a host of technology upgrades – and a refreshing new look and feel.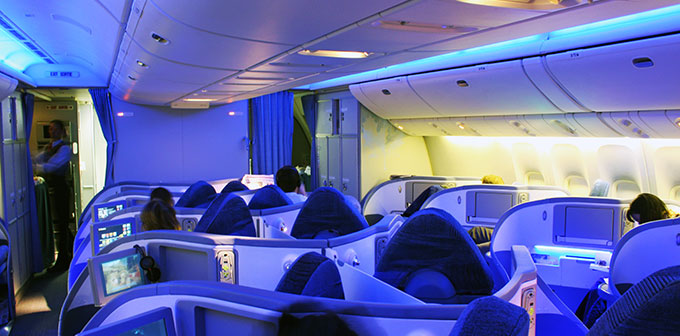 "When designing the Gen 4, our main objective was to improve the passenger experience in terms of both usability and aesthetics," explains Christopher Mondragon, Senior Manager, Design and Brand Development for the Thales In-Flight Entertainment and Connectivity business. In terms of aesthetics, the video unit is thinner, cleaner, fresher and better integrated into the seat. Colours have been used to make the unit more visually appealing, and several customers have already expressed their enthusiasm for the new design. "The unit is instantly recognisable," says Mondragon. "Once you see it, you know it's Thales."
Seat-centric
Besides its visual appeal, the Gen 4 also boasts a whole range of technology innovations. By making the unit more seat-centric, Thales has created a solution that is faster, more reliable – and offers improved passenger comfort. The most popular content is now stored directly in the Gen 4 display. Older or less popular content can still be accessed via the server-based system. This dual approach allows Thales's TopSeries AVANT platform to combine speed and reliability with a wealth of content. Furthermore, the up to 256GB of in-seat memory can easily be upgraded in the future.
Android apps
Other key innovations include capacitive touchscreen technology, a secondary control unit for multi-tasking (TouchPMU), modular inputs for passenger mobile devices (SmartPIM), and the use of the open source Android™ Operating System. "One of the key advantages of Android," Mondragon explains, "is that we can leverage existing applications and tap into the extensive Android developer community." In this way, time-to-market is reduced, and new apps can quickly be made available to passengers. Record order As well as improving the passenger experience, Gen 4 offers benefits in terms of reduced power requirements, weight and physical size. The unit has already been selected by an undisclosed leading world airline for their A350 XWB fleet – representing the largest all-time order for Thales IFEC.